Back to top&nbsp
Garmin PRO Trashbreaker
SKU:
010-01204-50
---
Garmin PRO Trashbreaker
Multidog Training Made Simple with Stimulation, Tone and LED Beacon Lights
Train up to 9 dogs at a time (additional dog devices required; purchase separately)
6 levels of continuous stimulation and tone settings
Up to 4-mile range
Built-in BarkLimiter™
Remote control of beacon lights on dog device

The PRO Trashbreaker with proven Tri-Tronics technology allows intuitive 1-hand training and control of up to 9 dogs¹ from a range of up to 4 miles. A top-mounted selection dial provides 6 levels of stimulation intensity and a tone setting for adjustability without complexity. Remote-operated LED beacon lights help you locate your dog in low light conditions. And a built in BarkLimiter, activated on the dog device, helps keep the peace at home.
Classic, Rugged Design
The PRO Trashbreaker is the simple and effective way to train your dog to stop chasing the wrong game. The tried and true tube-shaped design is easy to operate (and master) 1-handed so you can keep your eyes on your dog at all times, even while switching between stimulation and between dogs. The stimulation level/tone/LED selection dial is at the top of the handheld unit, allowing intuitive operation. And the multidog toggle switch and the color-coded transmitter buttons comfortably line up in the hand for fingertip control. A 5-inch removeable antenna with enhanced performance delivers up to a 4-mile range.
Train with Stimulation and Tone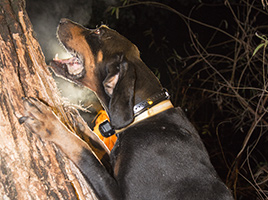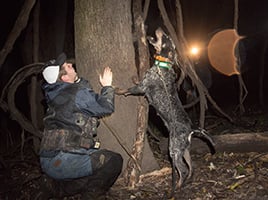 Choose from 6 levels of continuous stimulation or tone for up to 9 dogs at a time (additional dog devices required; purchased separately). Stimulation strength has been increased at the top setting for enhanced effectiveness and choice over the entire range. You can also remotely control the LED beacon lights built-in to the dog device to help locate your dog in all conditions.
Built-in BarkLimiter
PRO Trashbreaker features a built-in BarkLimiter, activated by the dog device. BarkLimiter features Autorise technology, which automatically adjusts correction to the optimum level needed to stop unwanted barking.
Tough, Water-resistant, Long-lasting
Both the transmitter and the dog device collar are designed to withstand all the blows, bumps and sloppy conditions of training and hunting. The dog device comes with 2 sizes of removable, stainless, insulated contact points for reliable performance in wet conditions and extended comfort for the dog. The dog device is water-rated to 1 ATM (10 meters).
The PRO Trashbreaker transmitter itself is water-rated to IPX7. The transmitter and dog device both feature a long-lasting, rechargeable, lithium-ion battery. A battery life indicator on the transmitter and dog device lets you know when to recharge the system.
Collar Pairing
The PRO Trashbreaker's color transmitter buttons can be paired with matching colored collars to help you keep track of which dogs are receiving stimulation and tone. Additional 3/4 inch polyurethane-coated accessory collars are sold separately.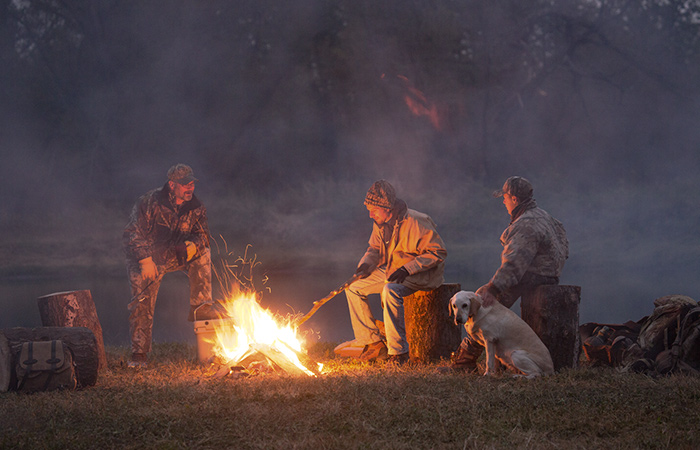 Specifications
Handheld Physical & Performance
Unit dimensions, WxHxD: 1.8" x 11.2" x 2.1"[4.5 x 28.4 x 5.4 cm)
Weight: 8.1 oz (230 g)
Range: 4 miles
Multi-dog compatibility: 9
Autorise bark correction mode: yes
Battery: rechargeable lithium-ion (included) 
Battery life: 60 hours
Water rating: IPX7
Floats: yes
Handheld Features
Correction levels: 6
Momentary/continuous correction: Continuous only
Vibration correction: no
Tone correction: yes (on dial)
Dog Device
Unit dimensions, WxHxD: 3.1" x 1.7" x 1.7"[7.8 x 4.4 x 4.4 cm)
Weight: 4.1 oz (115 g)
Battery: rechargeable lithium-ion (included)
Battery life: 40 hours
Water rating: 1 ATM
Floats: no
Collar compatibility: 0.75" (1.9 cm)
Dog Device Features
Beacon lights: yes
Vibration: no
Accessory unit activation: no
BarkLimiter™ mode: yes
Tone: yes
In the Box
System Version
PRO Trashbreaker handheld
TB 10 dog device
3/4 inch black collar strap
AC adapter
Split adapter cable
Charging clip
Contact point set with wrench
Manual
Handheld Version
PRO Trashbreaker handheld
AC adapter
Manual
Shipping
Garmin Brand products ship from Olathe, Kansas within 1-3 business days of ordering via UPS or FedEx.
To get an estimated shipping time on your order, please see the chart below:
Warranty
Garmin One Year Warranty
THIS LIMITED WARRANTY GIVES YOU SPECIFIC LEGAL RIGHTS, AND YOU MAY HAVE OTHER LEGAL RIGHTS, WHICH VARY FROM STATE TO STATE (OR BY COUNTRY OR PROVINCE). GARMIN DOES NOT EXCLUDE, LIMIT OR SUSPEND OTHER LEGAL RIGHTS YOU MAY HAVE UNDER THE LAWS OF YOUR STATE (OR COUNTRY OR PROVINCE). FOR A FULL UNDERSTANDING OF YOUR RIGHTS YOU SHOULD CONSULT THE LAWS OF YOUR STATE, COUNTRY OR PROVINCE.
Non-aviation products are warranted to be free from defects in materials or workmanship for one year from the date of purchase. Within this period, Garmin® will, at its sole option, repair or replace any components that fail in normal use. Such repairs or replacement will be made at no charge to the customer for parts or labor, provided that the customer shall be responsible for any transportation cost. This Limited Warranty does not apply to: (i) cosmetic damage, such as scratches, nicks and dents; (ii) consumable parts, such as batteries, unless product damage has occurred due to a defect in materials or workmanship; (iii) damage caused by accident, abuse, misuse, water, flood, fire, or other acts of nature or external causes; (iv) damage caused by service performed by anyone who is not an authorized service provider of Garmin; (v) damage to a product that has been modified or altered without the written permission of Garmin, (vi) damage to a product that has been connected to power and/or data cables that are not supplied by Garmin or damage to a product that has been connected to AC adapters and cables that are not certified by UL (Underwriters Laboratories) and are not labelled as Limited Power Source (LPS). In addition, Garmin reserves the right to refuse warranty claims against products or services that are obtained and/or used in contravention of the laws of any country. This product is intended to be used only as a travel aid and must not be used for any purpose requiring precise measurement of direction, distance, location or topography. Garmin makes no warranty as to the accuracy or completeness of map data.
Repairs have a 90 day warranty. If the unit sent in is still under its original warranty, then the new warranty is 90 days or to the end of the original 1 year warranty, depending upon which is longer.
This Limited Warranty also does not apply to, and Garmin is not responsible for, any degradation in the performance of any Garmin navigation product resulting from its use in proximity to any handset or other device that utilizes a terrestrial broadband network operating on frequencies that are close to the frequencies used by any Global Navigation Satellite System (GNSS) such as the Global Positioning Service (GPS). Use of such devices may impair reception of GNSS signals.
TO THE MAXIMUM EXTENT PERMITTED BY APPLICABLE LAW, THE WARRANTIES AND REMEDIES CONTAINED IN THIS LIMITED WARRANTY ARE EXCLUSIVE AND IN LIEU OF, AND GARMIN EXPRESSLY DISCLAIMS, ALL OTHER WARRANTIES AND REMEDIES, WHETHER EXPRESS, IMPLIED, STATUTORY, OR OTHERWISE, INCLUDING WITHOUT LIMITATION ANY IMPLIED WARRANTY OF MERCHANTABILITY OR FITNESS FOR A PARTICULAR PURPOSE, STATUTORY REMEDY OR OTHERWISE. THIS LIMITED WARRANTY GIVES YOU SPECIFIC LEGAL RIGHTS, AND YOU MAY HAVE OTHER LEGAL RIGHTS, WHICH VARY FROM STATE TO STATE.
IF IMPLIED WARRANTIES CANNOT BE DISCLAIMED, THEN SUCH WARRANTIES ARE LIMITED IN DURATION TO THE DURATION OF THIS LIMITED WARRANTY. SOME STATES DO NOT ALLOW LIMITATIONS ON HOW LONG AN IMPLIED WARRANTY LASTS, SO THE ABOVE LIMITATION MAY NOT APPLY TO YOU.
IN NO EVENT SHALL GARMIN BE LIABLE IN A CLAIM FOR BREACH OF WARRANTY FOR ANY INCIDENTAL, SPECIAL, INDIRECT OR CONSEQUENTIAL DAMAGES, WHETHER RESULTING FROM THE USE MISUSE OR INABILITY TO USE THIS PRODUCT OR FROM DEFECTS IN THE PRODUCT. SOME STATES DO NOT ALLOW THE EXCLUSION OF INCIDENTAL OR CONSEQUENTIAL DAMAGES, SO THE ABOVE LIMITATIONS MAY NOT APPLY TO YOU.
Garmin retains the exclusive right to repair or replace (with a new or newly-overhauled replacement product) the device or software or offer a full refund of the purchase price at its sole discretion. SUCH REMEDY SHALL BE YOUR SOLE AND EXCLUSIVE REMEDY FOR ANY BREACH OF WARRANTY.
To obtain warranty service, contact your local Garmin-authorized dealer or call Garmin Product Support for shipping instructions and an RMA tracking number. Securely pack the device and a copy of the original sales receipt, which is required as the proof of purchase for warranty repairs. Write the tracking number clearly on the outside of the package. Send the device, freight charges prepaid, to any Garmin warranty service station.
---
We Also Recommend