Back to top&nbsp
Garmin Astro 900 System
SKU:
010-02053-10
---
Garmin Astro 900 System
Handheld GPS Sporting Dog Tracking System for U.S. and Canada
Track up to 20 dogs with the 2.6" color display; pair with T 9 dog devices for a range of up to 5 miles (8 km); uses 900 MHz FHSS, approved for operation in Canada and the U.S.
2.5-second update rate provides faster location tracking when dogs are on the run
High-sensitivity GPS and GLONASS satellite reception has the ability to track in more challenging environments than GPS alone
Preloaded TOPO mapping for the U.S. and southern Canada and a free 1-year BirdsEye Satellite Imagery subscription for better location awareness
Hunt Metrics dog data analyzes dog's speed, distance traveled and time afield so you can review and train more effectively
With faster 2.5-second location updates and the capacity to follow up to 20 dogs (T 9 devices sold separately or as a bundle), Astro 900 is a handheld powerhouse of dog-tracking performance. Intuitive and easy to use, Astro 900 features a vibrant 2.6" color display, preloaded TOPO mapping for the U.S. and southern Canada, an optional in-unit rechargeable battery and Hunt Metrics data to help analyze your dog's tracking habits in the field, so you can know how to train more effectively.
Follow Your Dog's Every Move
Using our T 9 collar device (sold separately or as a bundle) to transmit each dog's location as often as every 2.5 seconds, Astro 900 is quick to pinpoint the track they're following — even when they're on the run. On the Astro device's bright, crisp display, you can see your dog's current location and a trail of where he's been. You also can switch over to the Dog Track page to view a compass pointing to your dog's location. For help in keeping the big picture in sight when tracking multiple dogs, it's easy to auto zoom the map page, so all dogs can be seen on the display at any time. Dogs that are too far away to fit on the map's current zoom scale can be notated on the display's margin in the direction of the dog's location. To reduce visual clutter on the map, you can toggle between "show all," "show some" and "show none" — selecting the duration that each dog's track is viewable on the display. You can also share a dog's track code so another person can view your dog's location on their unit's map, along with the dog tracking compass. Further, by sharing a dog's control code, you can allow another person to configure and control your dog's on-collar device.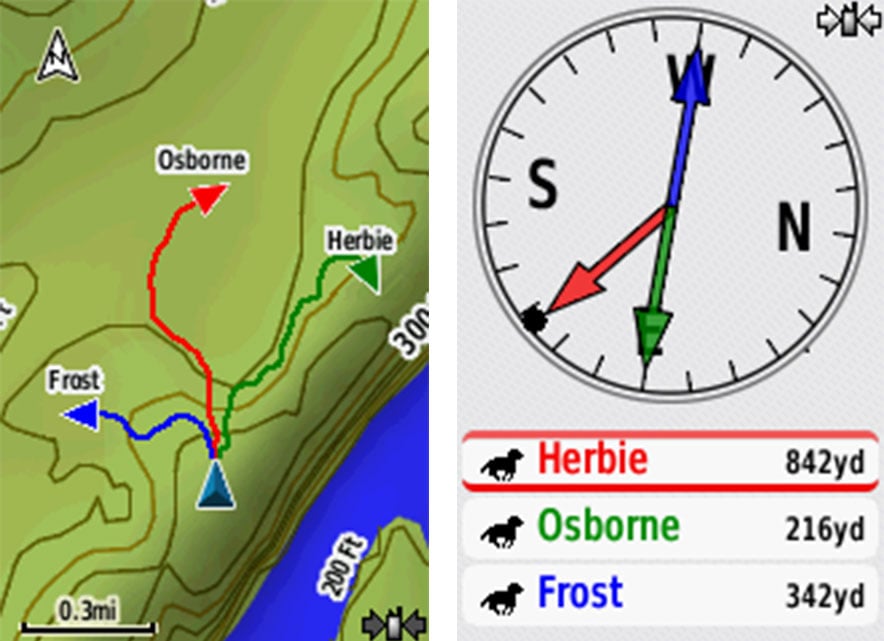 See More Detail with Additional Mapping
Astro 900 features a microSD™ card slot that allows you to load even more mapping options. You also can opt for City Navigator® NT map data, which gives you turn-by-turn driving directions on roads. In addition, Astro 900 supports BirdsEye Satellite Imagery (free 1-year subscription included) so you can download satellite images to your device and integrate them with your maps. The Astro device's mapping depicts important nearby geographical features and enables you to see if your dog has crossed a creek or is nearing a dangerous roadway. Astro 900 is also compatible with Garmin Custom Maps, free software that transforms paper and electronic maps into downloadable maps for your device.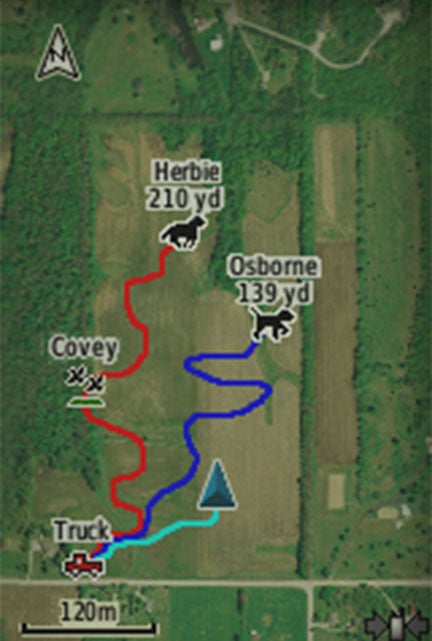 Track with Hunt Metrics Dog Data
Sophisticated Hunt Metrics data helps monitor your dog's hunting patterns and behaviors to optimize your training opportunities. You can see your dog's times, distances traveled and overall scores. Plus, Astro 900 will also capture the number of times during the hunt when an "on point" or "treed" event was indicated.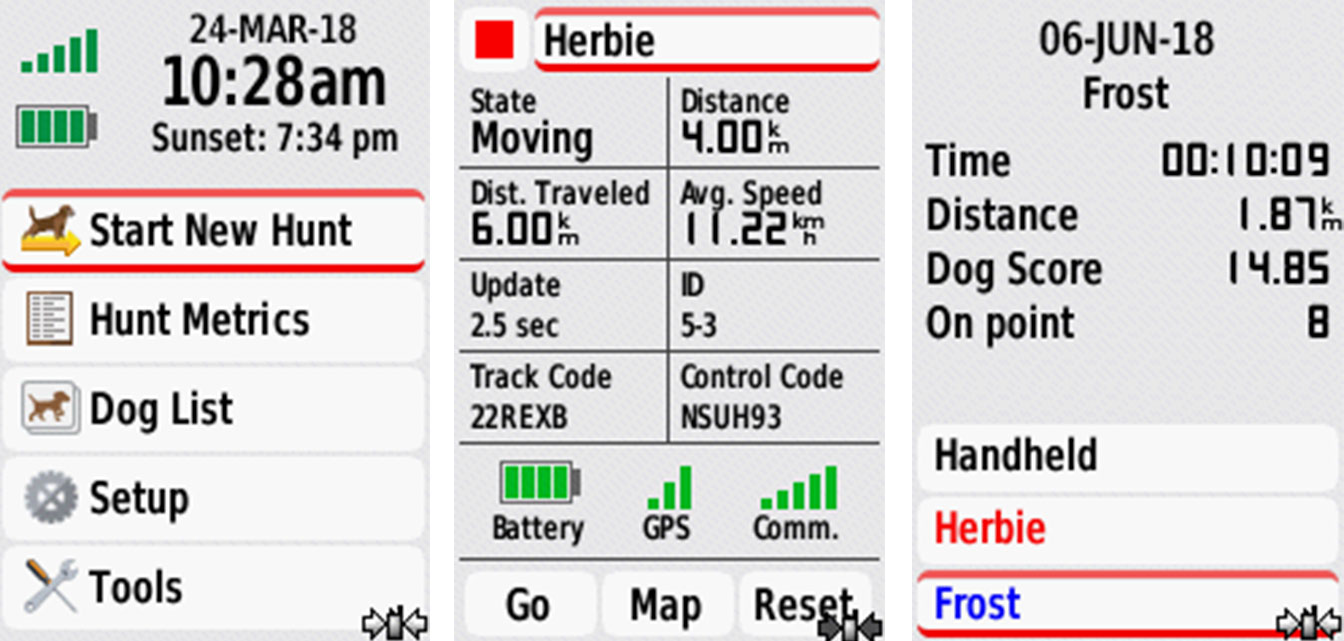 Count Your Coveys
After you've tracked down your quarry, mark the exact spot with the Astro device's Covey Counter™, a special waypoint that shows the exact location, time of day and elevation where you found your prey as well as the number of birds you flushed and took from that location. Astro lets you save other special waypoints, such as "Truck" and "Lodge," so you can easily find your way back to these locations at the end of the hunt. Astro also offers special waypoint icons to represent food plots, tree stands and other hunting-related points.
Make Every Outing Count
Plan for a more productive hunting trip with BaseCamp™, software that lets you view and organize maps, waypoints, routes and tracks. BaseCamp displays topographic map data in 2-D or 3-D on your computer screen, including contour lines and elevation profiles. It also can transfer an unlimited amount of satellite images to your device when paired with your Astro device's free 1-year BirdsEye Satellite Imagery subscription.
Share Wirelessly
With an expanded ecosystem of wireless connectivity options, Astro 900 can support unit-to-unit data transfer with a variety of compatible Garmin devices. For example, Garmin DriveTrack™ can receive and display dog positions on its moving map — with topographic or satellite image views — showing navigation cues to your dog's current location. Likewise, a compatible fēnix® GPS watch can receive dog status updates and alerts for viewing at a glance on your wrist. Also, while you're in the field, Astro 900 lets you link and share wirelessly with your buddies' compatible devices, such as the Oregon® handheld, Montana® handheld, GPSMAP® 64 chartplotter or other ANT+® connectivity-enabled devices, to help coordinate hunt logistics on the go.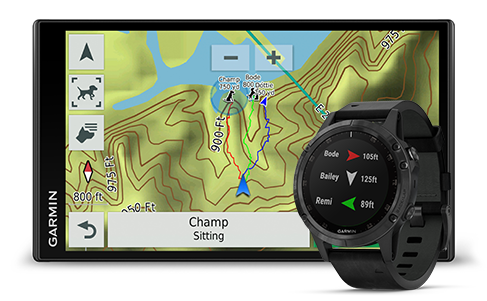 Turn Your Computer Into a BaseStation for Tracking Dogs
Load your laptop with BaseStation software to turn it into a field control center for tracking multiple dogs (equipped with T 9). View real-time GPS information on the larger display of your computer, making it ideal for canine search and rescue teams. And because it's GPS and GLONASS capable, you'll get tracking, even where internet and cell phone service isn't available.
Tough, Water-resistant, Long-lasting
Like all Garmin outdoor products, Astro 900 is designed to be effective, easy to use, reliable and rugged enough to withstand all the blows, bumps and sloppy conditions of training and hunting. The handheld unit is water-resistant to IPX7, and it can be powered with standard AA batteries — or it's optionally available with a long-lasting NiMH battery pack that's rechargeable in the unit. What's more, if you ever drop or misplace your Astro 900 in the field, the high-visibility orange case makes it easier to track down.
Specifications
General

PHYSICAL DIMENSIONS
2.4" x 6.3" x 1.4" (6.1 x 16.0 x 3.6 cm)
DISPLAY SIZE
1.43" x 2.15" (3.6 x 5.5 cm); 2.6" diag (6.6 cm)
DISPLAY RESOLUTION
160 x 240 pixels
DISPLAY TYPE
transflective, 65-K color TFT
WEIGHT
9.2 oz (260.1 g) with batteries
BATTERY TYPE
Optional NiMH pack or 2 standard AA (not included)
BATTERY LIFE
up to 20 hours (Astro 430)
WATER RATING
IPX7
HIGH-SENSITIVITY RECEIVER
MEMORY/HISTORY
4 GB
Maps & Memory

PRELOADED MAPS

yes (TOPO U.S. and Canada)

ABILITY TO ADD MAPS
BASEMAP
AUTOMATIC ROUTING (TURN BY TURN ROUTING ON ROADS)
Yes (with optional mapping for detailed roads)
EXTERNAL MEMORY STORAGE
microSD™ card (not included)
WAYPOINTS/FAVORITES/LOCATIONS
2000
TRACK LOG
10,000 points, 200 saved tracks
ROUTES
200
Sensors

BAROMETRIC ALTIMETER
COMPASS
Yes (tilt-compensated 3-axis)
Outdoor Recreation

AREA CALCULATION
HUNT/FISH CALENDAR
SUN AND MOON INFORMATION
GEOCACHING-FRIENDLY
Yes (Paperless)
CUSTOM MAPS COMPATIBLE
Additional

ADDITIONAL

Range (line of sight): T 9: 5 miles
Frequency band: 900 MHz FHSS
Handhelds vibration mode: yes
Tracks up to 20 dogs simultaneously
In the Box
Bundle
Astro 900 handheld
T 9 dog device with rechargeable lithium-ion battery
1 inch (2.5 cm) orange collar strap
4.2 inch (10.8 cm) antenna for Astro 900
14.2 inch (36 cm) antenna for T 9
Belt clip
AC adapter
Vehicle power cable
Charging cable for T 9
USB cable
Manual
T 9 Dog Device
T 9 dog device with rechargeable lithium-ion battery
1 inch (2.5 cm) blue collar strap
14.2 inch (36 cm) antenna
AC adapter
Vehicle power cable
Charging cable
Manual
Handheld Only
Astro 900 handheld
4.2 inch (10.8 cm) antenna
Belt clip
USB cable
Manual
Shipping
Garmin Brand products ship from Olathe, Kansas within 1-3 business days of ordering via UPS or FedEx.
To get an estimated shipping time on your order, please see the chart below:
Warranty
Garmin One Year Warranty
THIS LIMITED WARRANTY GIVES YOU SPECIFIC LEGAL RIGHTS, AND YOU MAY HAVE OTHER LEGAL RIGHTS, WHICH VARY FROM STATE TO STATE (OR BY COUNTRY OR PROVINCE). GARMIN DOES NOT EXCLUDE, LIMIT OR SUSPEND OTHER LEGAL RIGHTS YOU MAY HAVE UNDER THE LAWS OF YOUR STATE (OR COUNTRY OR PROVINCE). FOR A FULL UNDERSTANDING OF YOUR RIGHTS YOU SHOULD CONSULT THE LAWS OF YOUR STATE, COUNTRY OR PROVINCE.
Non-aviation products are warranted to be free from defects in materials or workmanship for one year from the date of purchase. Within this period, Garmin® will, at its sole option, repair or replace any components that fail in normal use. Such repairs or replacement will be made at no charge to the customer for parts or labor, provided that the customer shall be responsible for any transportation cost. This Limited Warranty does not apply to: (i) cosmetic damage, such as scratches, nicks and dents; (ii) consumable parts, such as batteries, unless product damage has occurred due to a defect in materials or workmanship; (iii) damage caused by accident, abuse, misuse, water, flood, fire, or other acts of nature or external causes; (iv) damage caused by service performed by anyone who is not an authorized service provider of Garmin; (v) damage to a product that has been modified or altered without the written permission of Garmin, (vi) damage to a product that has been connected to power and/or data cables that are not supplied by Garmin or damage to a product that has been connected to AC adapters and cables that are not certified by UL (Underwriters Laboratories) and are not labelled as Limited Power Source (LPS). In addition, Garmin reserves the right to refuse warranty claims against products or services that are obtained and/or used in contravention of the laws of any country. This product is intended to be used only as a travel aid and must not be used for any purpose requiring precise measurement of direction, distance, location or topography. Garmin makes no warranty as to the accuracy or completeness of map data.
Repairs have a 90 day warranty. If the unit sent in is still under its original warranty, then the new warranty is 90 days or to the end of the original 1 year warranty, depending upon which is longer.
This Limited Warranty also does not apply to, and Garmin is not responsible for, any degradation in the performance of any Garmin navigation product resulting from its use in proximity to any handset or other device that utilizes a terrestrial broadband network operating on frequencies that are close to the frequencies used by any Global Navigation Satellite System (GNSS) such as the Global Positioning Service (GPS). Use of such devices may impair reception of GNSS signals.
TO THE MAXIMUM EXTENT PERMITTED BY APPLICABLE LAW, THE WARRANTIES AND REMEDIES CONTAINED IN THIS LIMITED WARRANTY ARE EXCLUSIVE AND IN LIEU OF, AND GARMIN EXPRESSLY DISCLAIMS, ALL OTHER WARRANTIES AND REMEDIES, WHETHER EXPRESS, IMPLIED, STATUTORY, OR OTHERWISE, INCLUDING WITHOUT LIMITATION ANY IMPLIED WARRANTY OF MERCHANTABILITY OR FITNESS FOR A PARTICULAR PURPOSE, STATUTORY REMEDY OR OTHERWISE. THIS LIMITED WARRANTY GIVES YOU SPECIFIC LEGAL RIGHTS, AND YOU MAY HAVE OTHER LEGAL RIGHTS, WHICH VARY FROM STATE TO STATE.
IF IMPLIED WARRANTIES CANNOT BE DISCLAIMED, THEN SUCH WARRANTIES ARE LIMITED IN DURATION TO THE DURATION OF THIS LIMITED WARRANTY. SOME STATES DO NOT ALLOW LIMITATIONS ON HOW LONG AN IMPLIED WARRANTY LASTS, SO THE ABOVE LIMITATION MAY NOT APPLY TO YOU.
IN NO EVENT SHALL GARMIN BE LIABLE IN A CLAIM FOR BREACH OF WARRANTY FOR ANY INCIDENTAL, SPECIAL, INDIRECT OR CONSEQUENTIAL DAMAGES, WHETHER RESULTING FROM THE USE MISUSE OR INABILITY TO USE THIS PRODUCT OR FROM DEFECTS IN THE PRODUCT. SOME STATES DO NOT ALLOW THE EXCLUSION OF INCIDENTAL OR CONSEQUENTIAL DAMAGES, SO THE ABOVE LIMITATIONS MAY NOT APPLY TO YOU.
Garmin retains the exclusive right to repair or replace (with a new or newly-overhauled replacement product) the device or software or offer a full refund of the purchase price at its sole discretion. SUCH REMEDY SHALL BE YOUR SOLE AND EXCLUSIVE REMEDY FOR ANY BREACH OF WARRANTY.
To obtain warranty service, contact your local Garmin-authorized dealer or call Garmin Product Support for shipping instructions and an RMA tracking number. Securely pack the device and a copy of the original sales receipt, which is required as the proof of purchase for warranty repairs. Write the tracking number clearly on the outside of the package. Send the device, freight charges prepaid, to any Garmin warranty service station.
---
We Also Recommend