Estimated Shipping Widget will be displayed here! (with custom color)
Regular price
Sale price
$215.00
Unit price
per
Sale
Sold out
Orders over $499 qualify for free shipping.
Pet's Choice Guarantee
🗸 Lowest Price Guaranteed
🗸 100% PCI Compliant Secure Shopping
🗸 Easy Returns
🗸 Fast & Free Shipping on orders over $499
🗸 Dedicated Customer Service
🗸 0% Interest Financing Available
View full details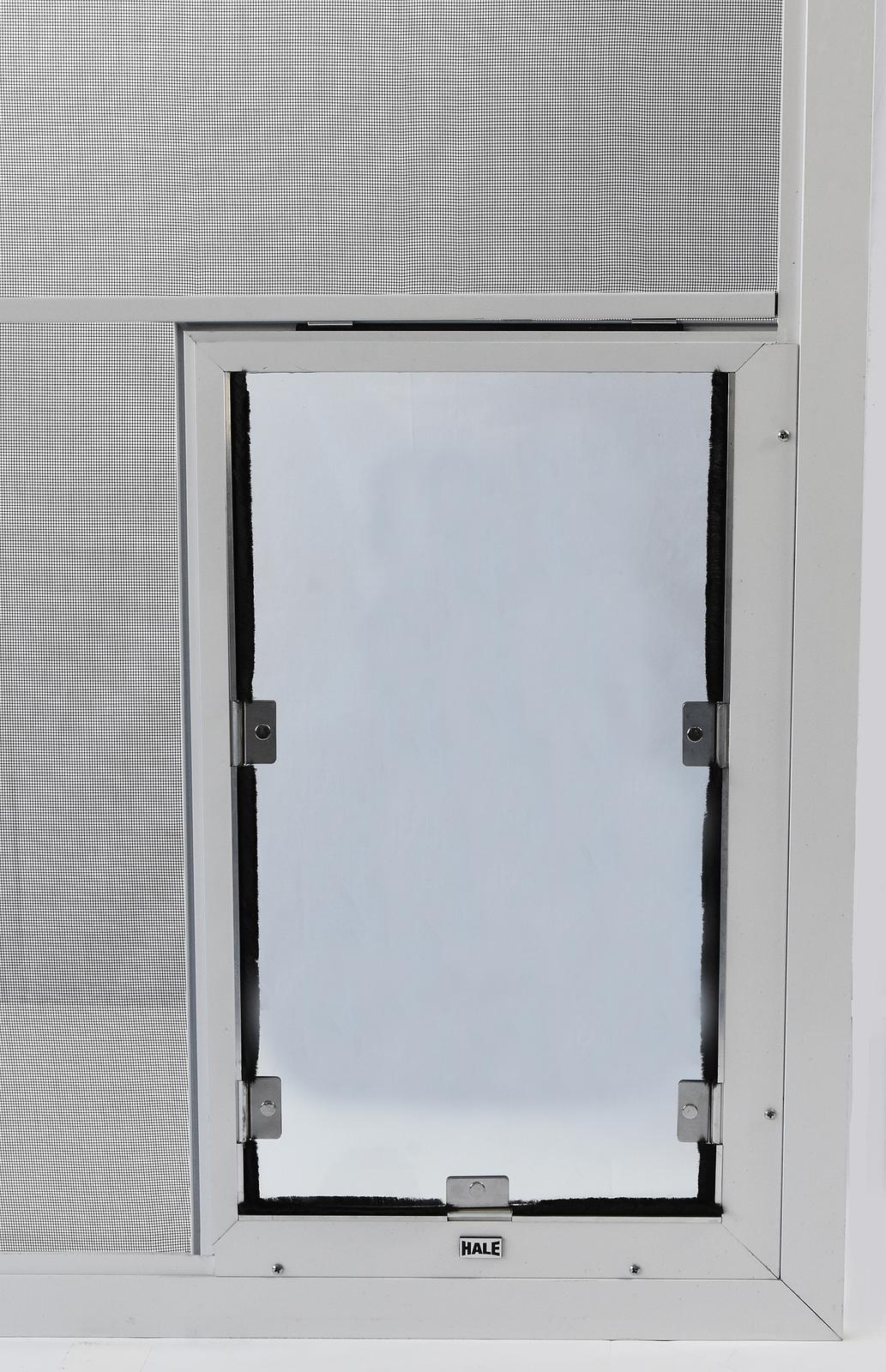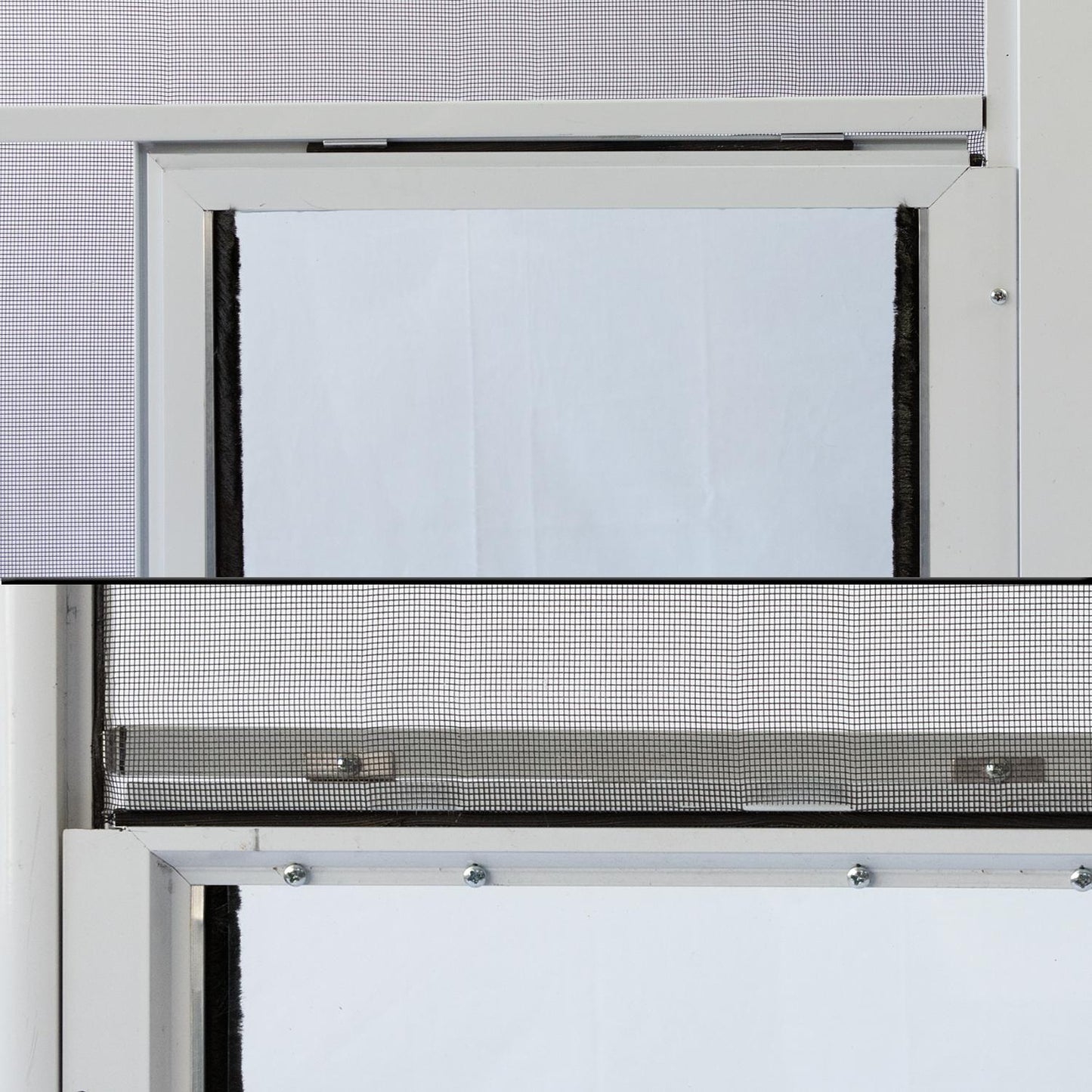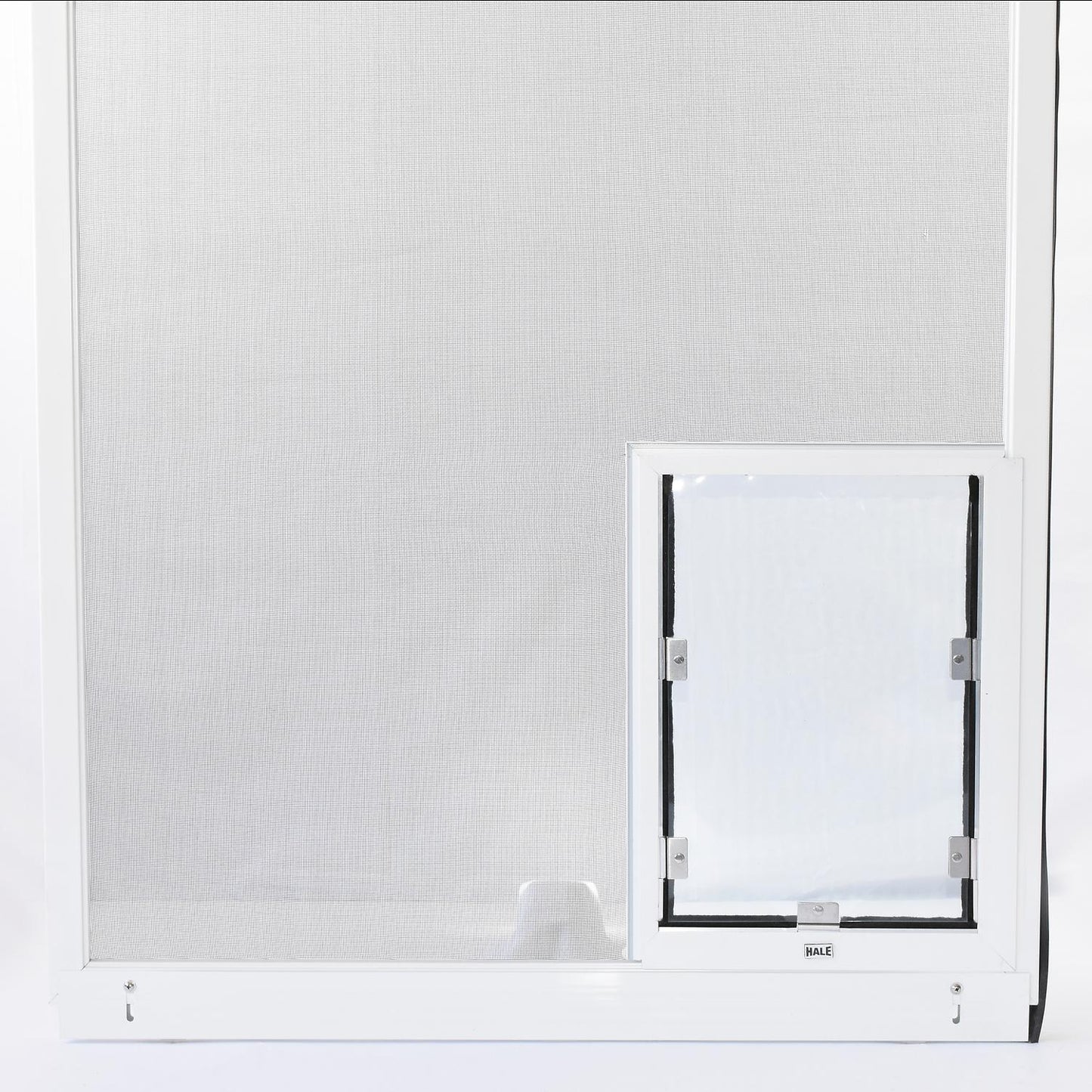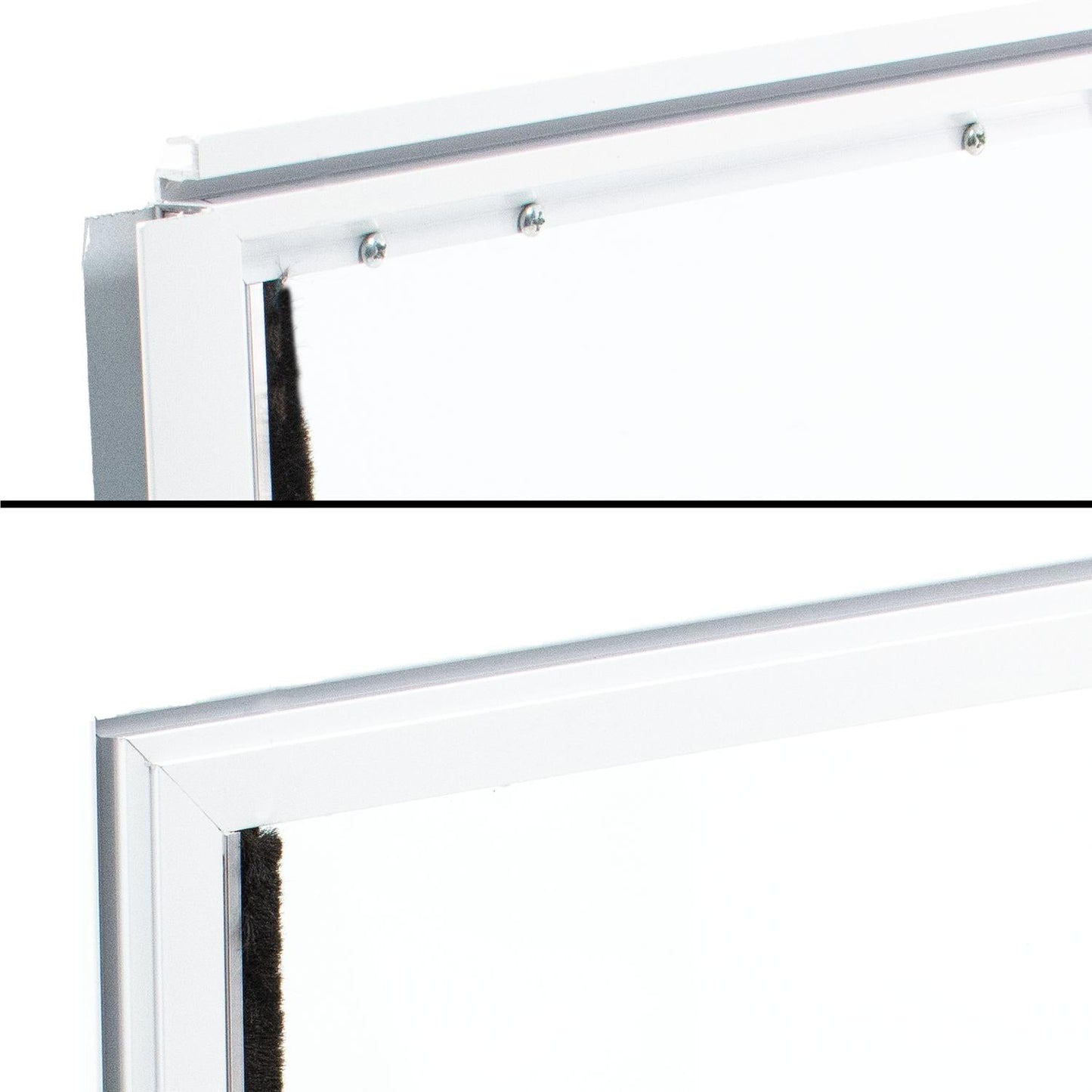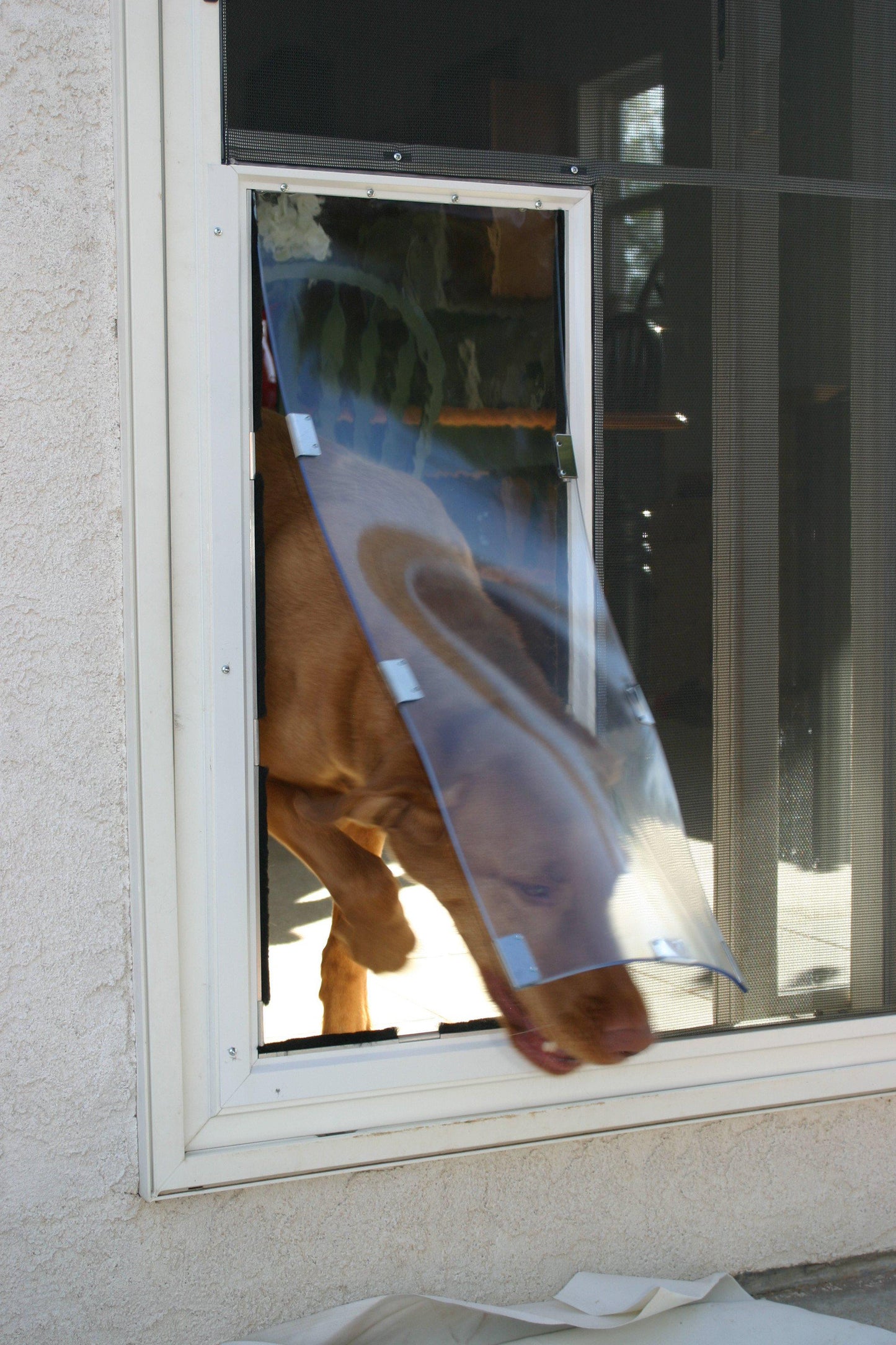 ---
Get a Hale Pet Door today so you can quit being the doorman for your dogs and cats!  
All Hale pet doors utilize the highest quality materials and are designed with meticulous attention to detail. Don't waste money on cheap pet doors that use materials of lower quality - they won't last you more than a few months. In contrast, a Hale pet door lasts owners many, many years with regular use. Just take a look at our reviews.

Hale helps owners save more money on energy bills compared to other pet doors, as Hale doors have flaps with the highest rating for insulation and sealing.

*Note: This model can only be installed in a "person" Screen Door. For wall installations, see our Hale Wall Mounted Pet Door.
Need help finding the best size? Call or e-mail us and we'll help you find the right size for your cat or dog!
Hale Screen

 

Model Pet Door
Standard uncut pet door only fits screen doors and windows up to 1/2" thick. NOTE: Our new universal screen door fits most screen doors or windows over 1/2" thick. However if you are unsure of your size please please select the "Over 1/2" Thick (includes our universal size - also fits under 1/2" thick)" option.
All Screen Model doors include a single flap.
Key Features
Clear vinyl flap that is easy for pets to use.

Sleek aluminum trim comes in four different colors to match your framing.

Magnets around the edges of the flap, number varies between sizes. Strength of magnets is adjustable.

Flap is surrounded by ½" fuzzy nylon weather stripping to prevent gaps from letting bugs in.

12 different sizes mean you can choose the absolute perfect fit for any dog or cat.

Strong, Durable, and Long Lasting - Hale Pet Doors will not break on you, unlike cheaper doors. The frames are made of extruded aluminum with steel reinforced corners, and are far superior to plastic or pressed metal frames. The door Flaps are made of PVC vinyl, stronger and longer lasting than most other commonly used materials.
Easy, Worry Free Support - Experienced technicians are available by phone for installation or technical consultation. Also, all Hale Pet Doors include a comprehensive 5-year, no-fault warranty!
Made in the USA - All Hale Pet Doors are manufactured in the United States with the greatest attention to detail.
Options
Flap Size: 12 standard sizes available from small to giant. Use the Size Chart above, or click on the Sizing & Measuring tab for more details.
Frame Color: Available in four color choices. Note, the Security Cover color will be a complimentary color, very close to the color of the frame.


Beige

- hard coat paint, looks like coffee with a couple of creamers added.

Brushed Aluminum

- anodized metal, satin nickel color, looks like the bottom of a Coke can.

Dark Bronze

- anodized metal, chocolate brown, looks almost black in dimmer light.

White

- white hard coat paint.

Mixed Frame Color

- In the shopping cart Special Instructions section, just write in the color you would like for the Exterior Frame, the color for the Interior Frame.

Frame Thickness: Please choose the appropriate range for your screen frame thickness. NOTE: Most screen doors are now over 1/2" thick (usually at least 5/8") and an unmodified pet door WILL NOT work with them. Please double check your measurements if you choose up to 1/2" thick to verify. We prefer that you order our universal screen pet door as this will work with ALL screen door thicknesses even those under 1/2". 

Our standard screen model is designed to work with screen door or screen window frames up to 1/2" thick. In this case, your screen model pet door can be installed in either side of the screen frame as it is completely reversible. If your screen door or screen window frame is thicker than 1/2", we can provide you with our universal screen pet door to work in this situation. 

Optional Training Flap

 

- Additional flap, use for a limited time when pet is timid and getting used to the pet door.
Hale Pet Door Size Chart - A Size to Fit Any Animal and Application
The easiest way to test flap size for your pet is to cut a hole in a piece of cardboard that is the size of the flap you are interested in, then coax your pet through (use treats if necessary). Place the cardboard in the opening of a door so they have to walk through the hole to get to the reward! See what flap size works best, so you know what flap size to buy for the most comfortable configuration for your pet.

Click on the Sizing & Measuring tab for more details on how to measure the right size for your pet.
Model
Size
Flap Opening
Rough Opening
Tip to Tip
Pet Weight
Pet Shoulder Height
Breed Examples
SMALL
A
Small
5 1/2" x 7 1/2"
7 3/8" x 9 3/8"
8 3/8" x 10 3/8"
Very small cats up to 8 lbs.
Up to 7"
Cats (very small only)
B
Small Medium
6 1/2" x 9 1/2"
8 1/2" x 11 1/2"
9 9/16" x 12 9/16"
Most cats, small dogs 6-12 lbs.
9"-13"
Cats, Chihuahua, Dachshund, Mini Poodle
C
Tall Small Medium
6 1/2" x 12 1/2"
8 1/2" x 14 1/2"
9 9/16" x 15 3/8"
Dogs 12-25 lbs
12"-15"
Mini Pinscher, Maltese
MEDIUM
D
Medium
8 1/2" x 12 1/2"
10 1/2" x 14 1/2"
11 9/16" x 15 3/8"
Dogs 10-35 lbs.
12"-15"
Terriers, Pug, Corgi, Shiba Inu
E
Tall Medium
8 1/2" x 16"
10 1/2" x 18"
11 9/16" x 19 1/16"
Tall Dogs 30-45 lbs.
15"-20"
Cocker Spaniel, Sheltie, Beagle
LARGE
F
Large
11" x 16"
13" x 18"
14 1/16" x 19 1/16"
Dogs 40-55 lbs.
15"-20"
Basset, Chow, Keeshond, Husky
G
Tall Large
11" x 19 1/2"
13" x 21 5/8"
14 1/16" x 22 9/16"
Taller Dogs 50-95 lbs.
21"-24"
German Shepherd, Labrador Retriever
H
Tall Large Plus
11" x 23 1/2"
13" x 25 5/8"
14 1/16" x 26 9/16"
Tall slender dogs to 110 lbs.
25"-27"
Standard Poodle, Irish Setter, Greyhound
I
Extra Tall Large
11" x 27 1/2"
13" x 29 5/8"
14 1/16" x 30 9/16"
Very tall, slender dogs to 120 lbs.
24"-31"
Afghan, Irish Wolfhound, Borzoi
EXTRA LARGE
J
Extra Large
14" x 19 1/2"
16" x 21 5/8"
17 1/16" x 22 9/16"
Large dogs to 120 lbs.
22"-24"
Rottweiler, Akita, Bulldog
K
Extra Large Plus
14" x 23 1/2"
16" x 25 5/8"
17 1/16" x 26 9/16"
Larger dogs to 150 lbs.
25"-27"
St. Bernard, Newfoundland
L
Giant
15 1/2" x 27 1/2"
17 5/8" x 29 5/8"
18 9/16" x 30 9/16"
Most Giant Breeds
25"-31"
Great Dane, Mastiff, Great Pyrenees
Technical Specifications
Flaps: Flaps made of flexible 3/16" clear PVC vinyl. 
Frame: Extruded heavy aluminum with steel reinforced corners

Self-Framing: No need to frame out the hole. Fits most doors 1 3/8" to 2" thick
Outer Frame: Extruded 6063-T5 aluminum with .063" wall thickness. Designed to sleeve into the inside frame.
Flange: The outer frame flange is .0:70" smaller than the inner frame flange to allow the frame to sleeve together.

Energy Efficiency

Alnico5 Magnets: A ¼" rod magnet 1 ½" long made from an aluminum, nickel and cobalt alloy known for its strength and durability. Door size determines number of magnets.
Strikes: Made of ferrous stainless steel. 1 ½" long, ¾" tall and 1/32" thick. U shaped with interior prongs, when squeezed onto the vinyl flap, the barbed prongs hold firmly.
Hale Pet Door 5 Year No Fault Warranty
Hale Pet Door has been making the highest quality pet doors on the market for over 30 years. Hale uses fully tempered glass of the greatest quality and strength available for each application, and also meets or exceeds all safety glazing laws and codes in the United States. Hale Pet Door guarantees and warrants, that the Hale Pet Door products and component parts thereof shall be free from any defects in materials and workmanship. The warranty period for all Hale Pet Door model pet doors is effective from the date of purchase and extends to the anniversary date marking the end of the fifth year. Hale agrees to exchange or repair at the company's expense, any unit found to be defective in workmanship and/or material, subject to inspection. Hale Pet Door will even credit 50% towards the cost of a replacement Hale Pet Door, any door that was damaged by the customer (due to no fault by Hale Pet Door). Some restrictions apply, for full warranty details - Hale Pet Door Warranty Terms for Pet Pro Supply
Additional Product Details
Manufacturer - Hale Pet Door

Maximum Pet Size - Cats, Large Cats, Small Dogs, Medium Dogs, Large Dogs, X-Large Dogs

Screen Support - Screws to Screen Frame

Frame Material - Extruded Aluminum

Possible to Add Additional Magnets for Greater Wind Resistance - Yes

Flap Material - Vinyl

Flap Design - Single, Flexible, Thin Flap

Flap Colors - Clear

Flap Thickness - 1/8"

Replacement Flaps Available - Yes

Can Be Installed In - Screens

Warranty Period - 5 Years Limited
---