Estimated Shipping Widget will be displayed here! (with custom color)
Regular price
Sale price
$459.99
Unit price
per
Sale
Sold out
Orders over $499 qualify for free shipping.
Pet's Choice Guarantee
🗸 Lowest Price Guaranteed
🗸 100% PCI Compliant Secure Shopping
🗸 Easy Returns
🗸 Fast & Free Shipping on orders over $499
🗸 Dedicated Customer Service
🗸 0% Interest Financing Available
View full details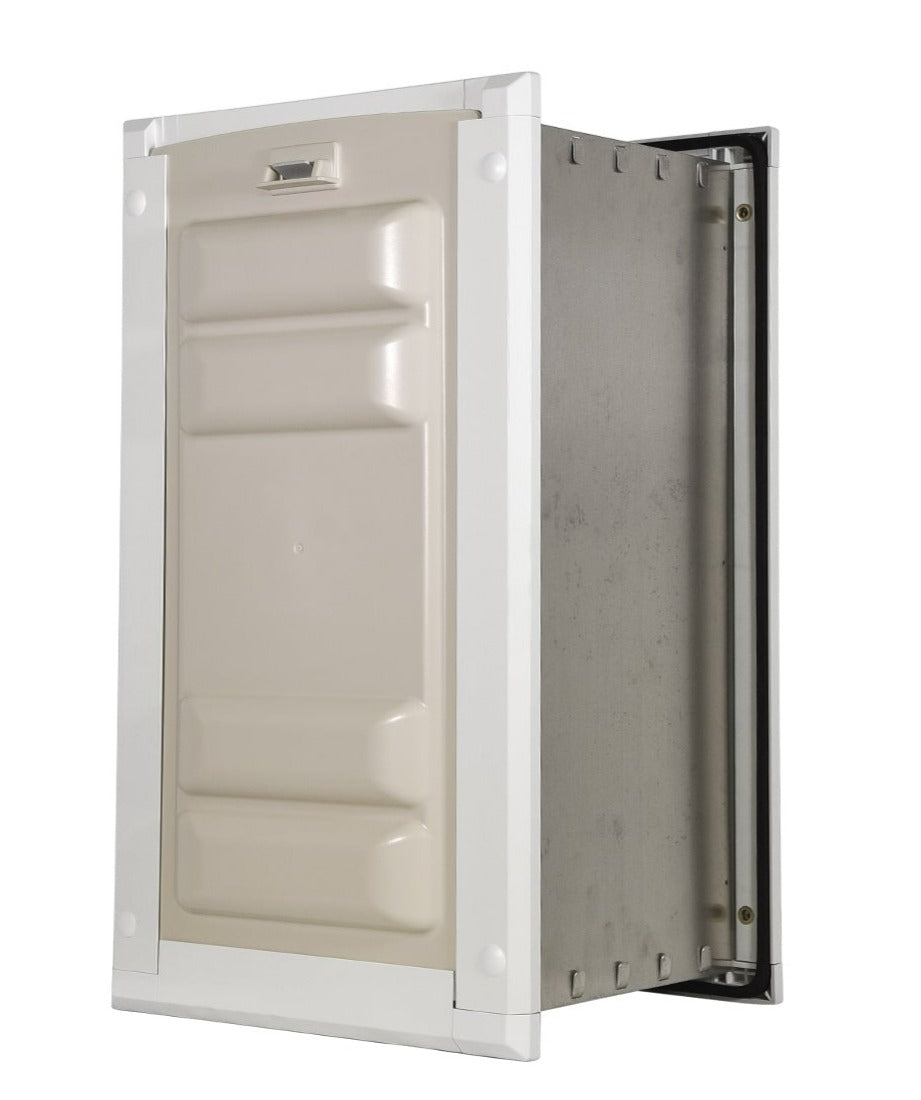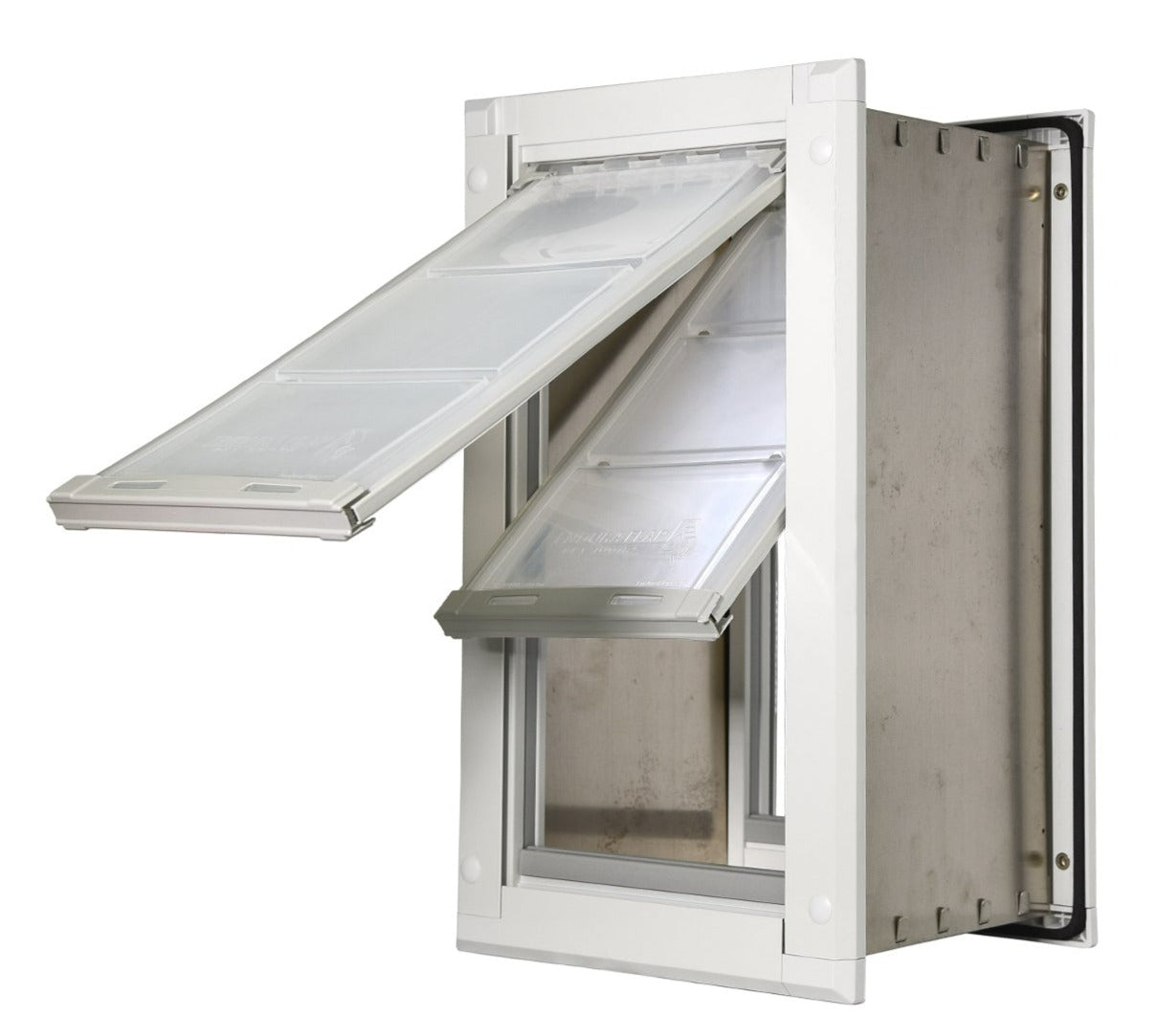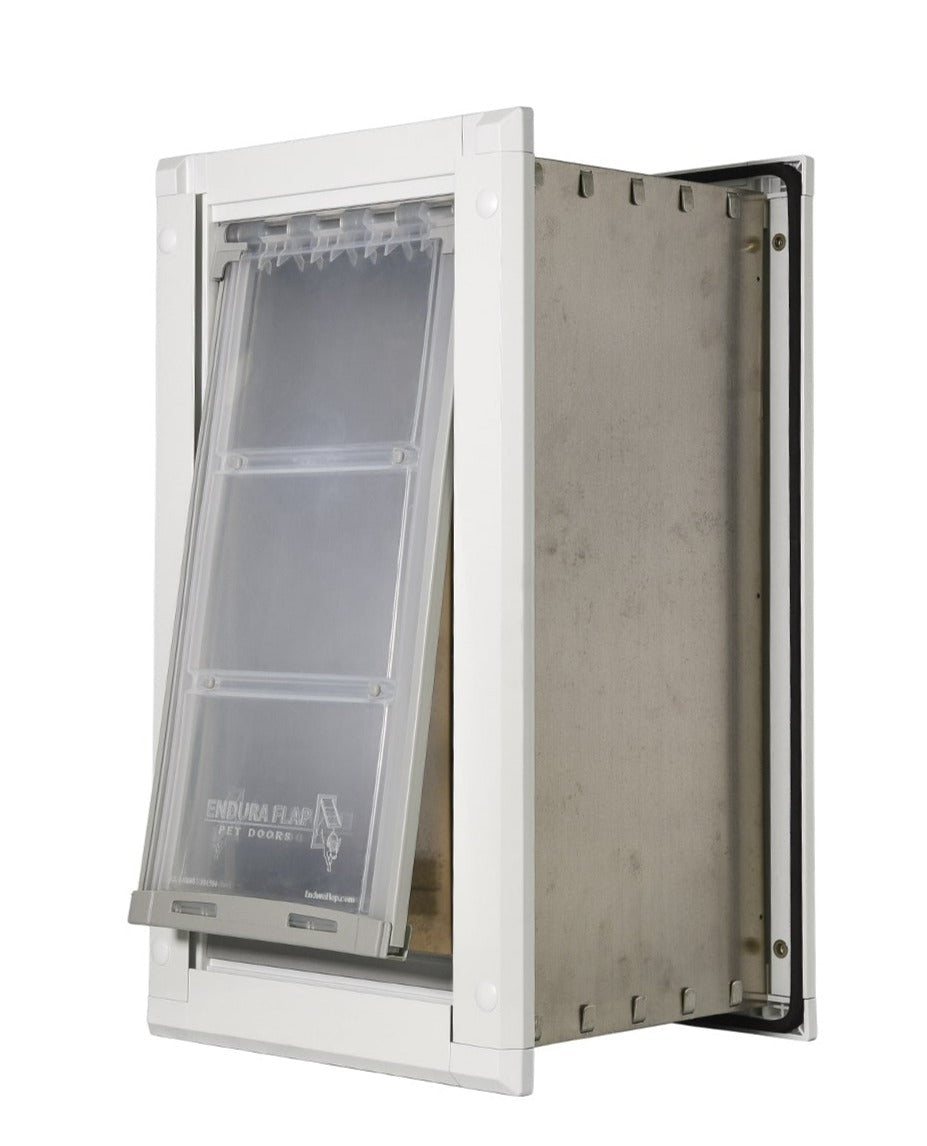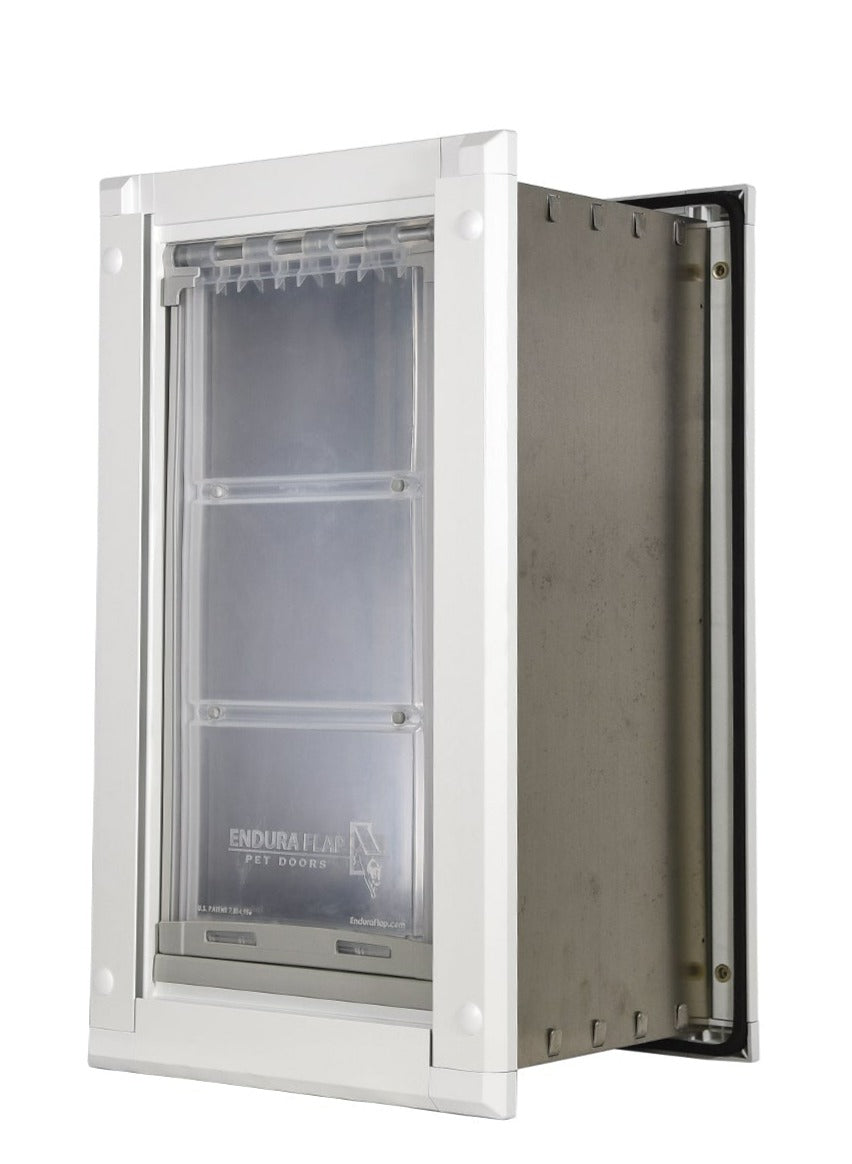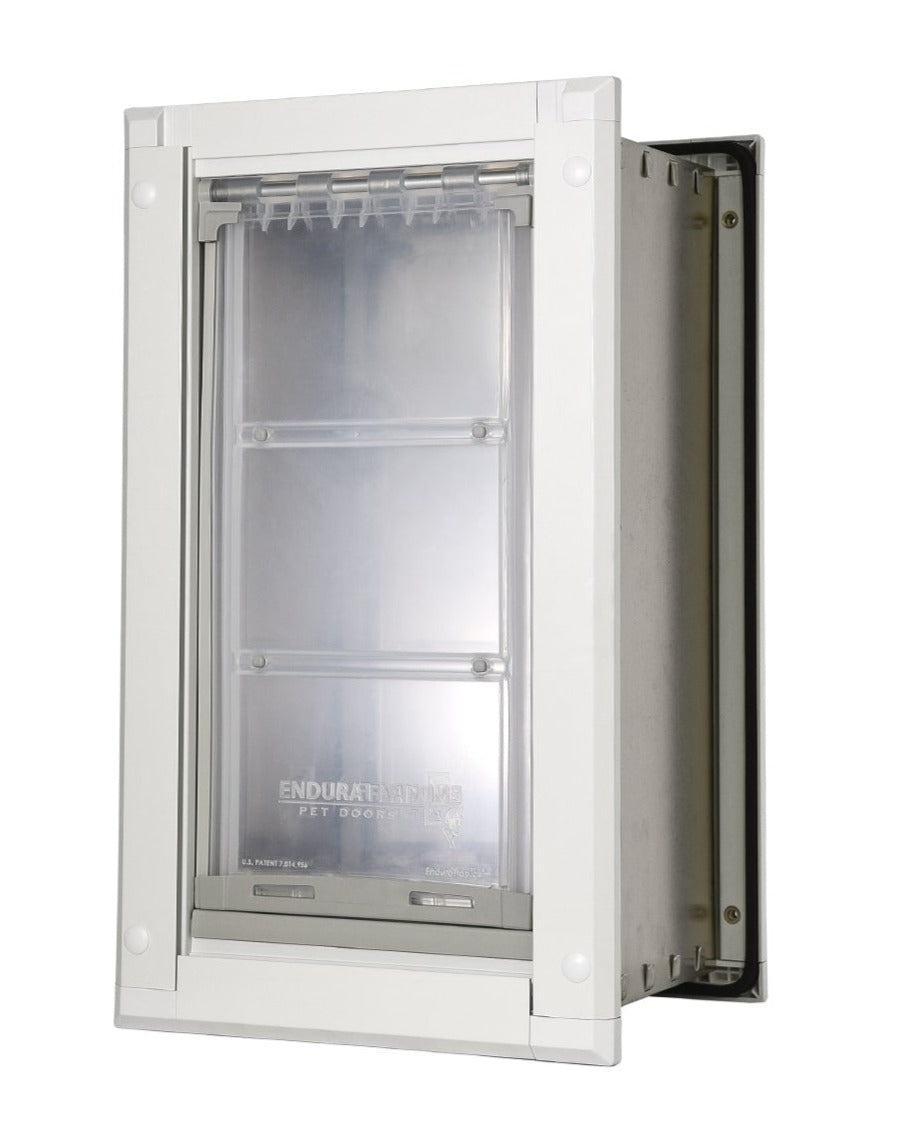 ---
Endura Flap by Patio Pacific:
Dog Door for Walls - Secure In-Wall Entry Pet Door for Small, Medium or Extra Large Dogs and Cats.
Endura Flap In-Wall Dog Doors by Endura Flap® Patio Pacific, are designed for installation into either interior or exterior walls. 
Patio Pacific engineered the Endura Flap to be the best performing four-season, flexible pet door ever created. The patented design is the best in quality, functionality and durability. Critics agree; the Endura Flap has won more awards than any other pet door on the market.

Patio Pacific designed these ultra-durable pet doors to last for over a decade, so they are backed by an industry-best 15 year warranty. 

We have lots of content for you to look through when deciding about your pet door. Check out:

Picking the right dog door can be daunting! If you have any questions about your purchase, please get in touch with us at 1-855-PET-PRO1 or cs@petprosupplyco.com and we can help!

Patio Pacific Pet Door for Walls - Key Features:
Extreme performance Endura Flap - The Endura Flap is the best and most well engineered pet door flap ever made. It seals and insulates well and will last a lifetime, so unlike other cheap pet doors, you won't have to constantly replace your pet door. For more info on what happens over time to the cheaper, traditional vinyl flaps, see our Leaky Flap page
The best fit for your pet(s) - Endura Flap sizes were intentionally designed with a high aspect ratio design, making it very easy to accommodate many pets of different sizes. The sizes makes it easy to share between very large and very small dogs and cats, while still being small enough to maximize security. Small #6 for cats and small dogs to the Extra Large #12 for very big dogs.
Supremely durable and ultra-solid aluminum extruded framing - Unlike other pet doors with flimsy frames and with bolts sticking out everywhere, Patio Pacific designed its pet doors to feature completely hidden hardware.
Green Friendly and Environmentally Safe material -

The 

Endura Flap is made using non-toxic, recyclable, and green for the environment a polyolefin-based polymer (similar to material used in food storage containers). Unfortunately, most pet doors are made with PVC, or vinyl, which is very harmful to the environment. 
Self-framing using heavy gauge aluminum tunnel - For all walls to 8" thick (ample for most 2x4 & 2x6 stud walls).
Keeps your home safe and secure - An extra sturdy locking cover -  with a strength equivalent to 1/16" thick steel plate helps can keep your pets in AND lock pests of all sizes out. The cover easily clips on and is far easier to use than old style spring-loaded pin locks.
Superior quality backed by an industry best warranty - The 15 year warranty on the pet door assembly is the longest warranty of any similar product on the market.
Proudly 100% Made In The USA - Engineered, designed, and manufactured in the USA, right in the heart of California!
There are so many reasons as to why the Endura Flap is such a high performing pet door, but for any engineers or those looking for some more in-depth technical information here is a 74-page study that demonstrates dog door energy efficiency and what make this dog door so special.
Endura Flap Wall Door Sizing Information
To find the flap size door for your pet:
Cut a hole in a piece of cardboard that is the size of the flap you are interested in
Place the cardboard with the hole, in the opening of a door, then coax your pet through (use treats if necessary)
See what flap size and step over height (height from floor to bottom of where the flap will be installed) works best for your pet.
Click on the Sizing & Measuring tab for more details on how to measure the right size for your pet. 
Flap Size
Flap Dimension
Rough Cut Out
Outside Frame Dimension
Flap Type
Stock No.
Small
6"w x 11"h
8 3/8"w x 15"h
9 7/16" w x 16" h
Single
04PP06 1
6"w x 10"h
Double
04PP06 2
Medium
8"w x 15"h
10 1/2" w x 19" h
11 1/2" w x 20" h
Single
04PP08 1
8"w x 14"h
Double
04PP08 2
Large
10"w x 19"h
12 1/2"w x 23"h
13 9/16" w x 24" h
Single
04PP10 1
10"w x 18"h
Double
04PP10 2
Extra Large
12"w x 23"h
14 5/8"w x 27 1/8"h
15 5/8" w x 28" h
Single
04PP12 1
12"w x 22"h
Double
04PP12 2

Number of Flaps 
1 - Single Flap - On inside frame (same side as locking cover)
2 - Double Flap - One on each side. The included dead-air-space from the second flap adds significantly to the already considerable insulation and sealing capability.
Note: Larger Endura Flaps are not recommended for use by kittens or tiny dogs. Cats have been successful using the Small #06, however a few have found the Medium #08 difficult to use. We would not recommend using the Large #10 or Extra Large #12 or any of the double flap versions for cats.
Patio Pacific Endura Flap Pet Door 15 Year Comprehensive Warranty
To the original purchaser, Patio Pacific Inc warrants this product and all of its component parts to be free of defects in materials or workmanship for a period of 15 years from the date of delivery to the customer. Find out more here: Patio Pacific Endura Flap Warranty Terms & Details
Additional Endura Flap Wall Model Product Details
Manufacturer - Patio Pacific Inc
Your Maximum Pet Size - Cats, Large Cats, Small Dogs, Medium Dogs, Large Dogs, X-Large Dogs
Climate Suitability - Severe-4 Season
Sealing Value - Very High
Wind Resistance - Very High
Self-Framing - Yes
Frame Material - Heavy Extruded Aluminum
Employs Patented "Endura Flap" - Yes
Insulation Value - Very High, High
Possible to Add Additional Magnets for Greater Wind Resistance - Yes
Flap Material - Engage
Flap Design - Single, Double, Flexible, Insulated Flap
Flap Colors - Clear
Flap Thickness - 7/8"
Award Winning Design - Yes
Replacement Flaps Available - Yes
Flap Warranty (if separate) - 15 years
Ability to Lock Flap - Separate Locking Cover-Loads from Top
Locking Cover Material - Dimensional ABS
Can Be Installed In - Walls, Kennel Wall
Warranty Period - 15 years
---