Estimated Shipping Widget will be displayed here! (with custom color)
Regular price
Sale price
$2,180.00
Unit price
per
Sale
Sold out
Orders over $499 qualify for free shipping.
Pet's Choice Guarantee
🗸 Lowest Price Guaranteed
🗸 100% PCI Compliant Secure Shopping
🗸 Easy Returns
🗸 Fast & Free Shipping on orders over $499
🗸 Dedicated Customer Service
🗸 0% Interest Financing Available
View full details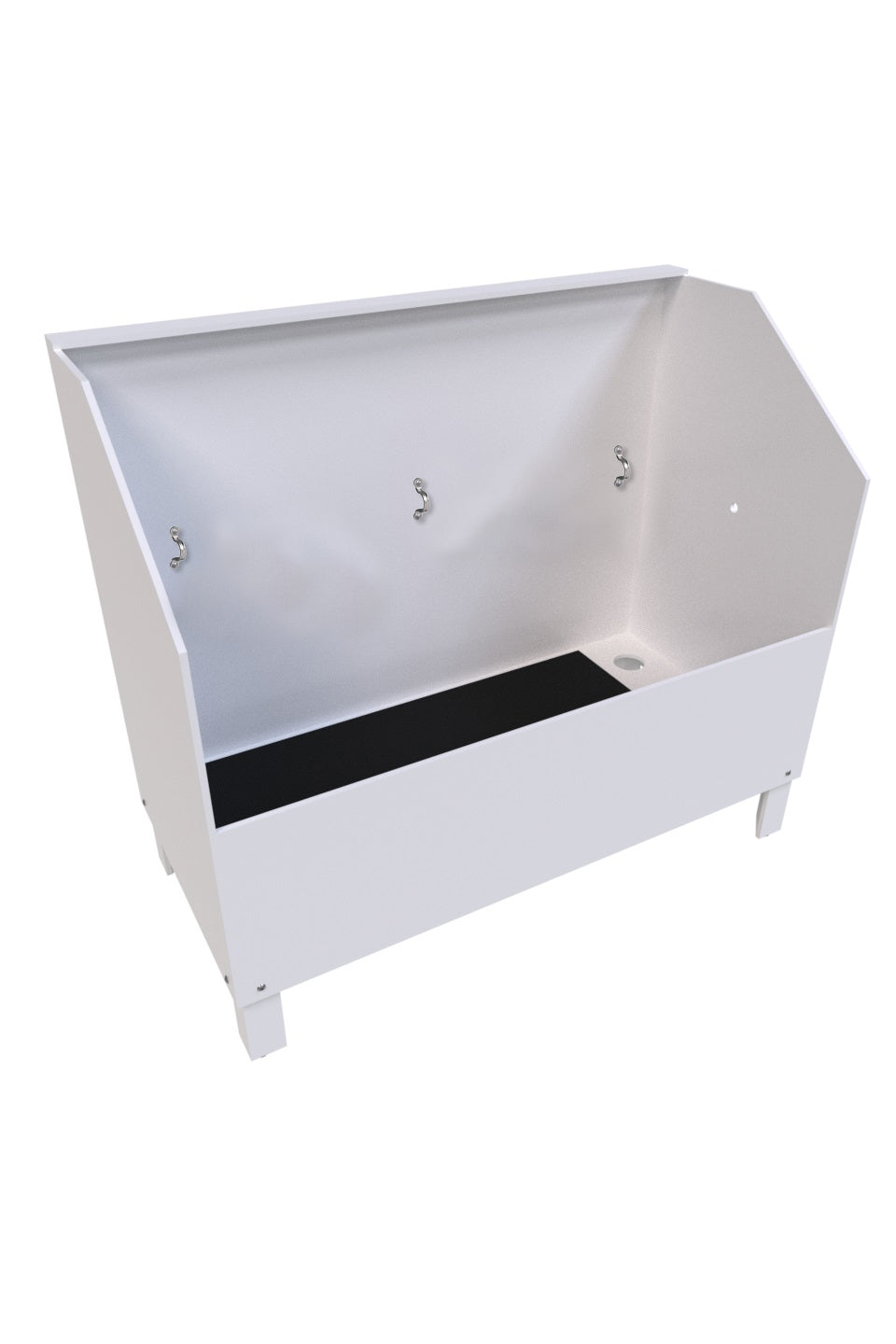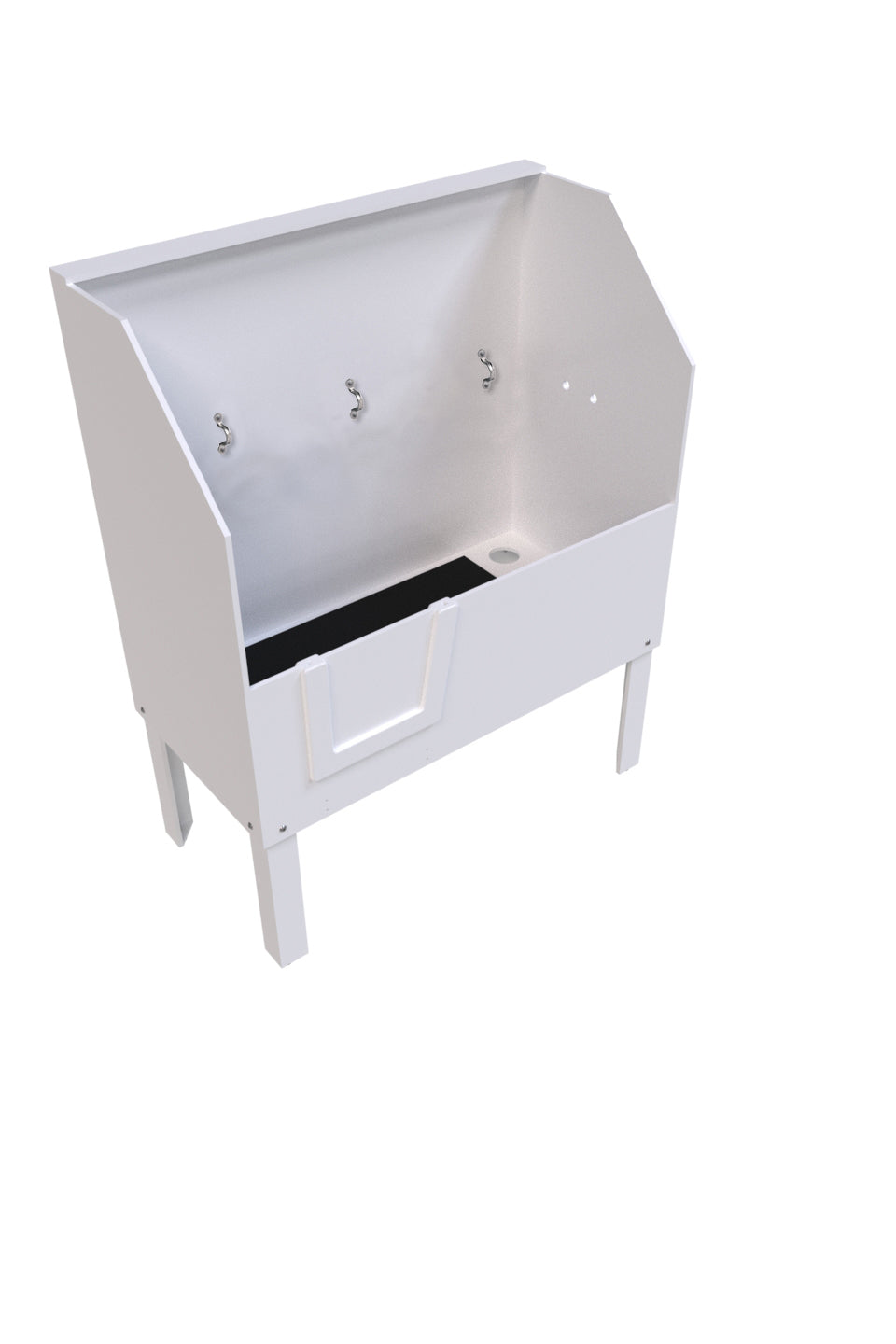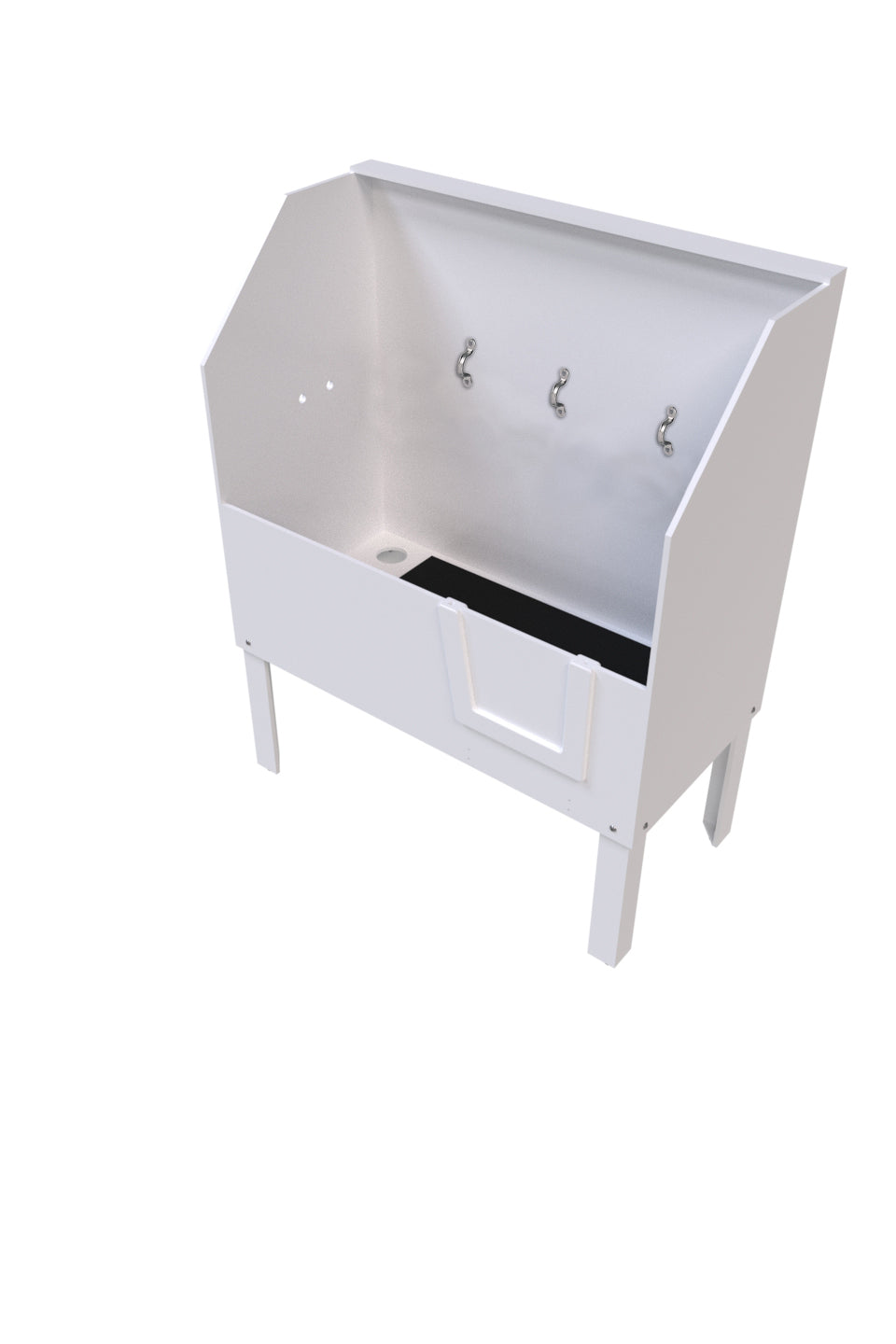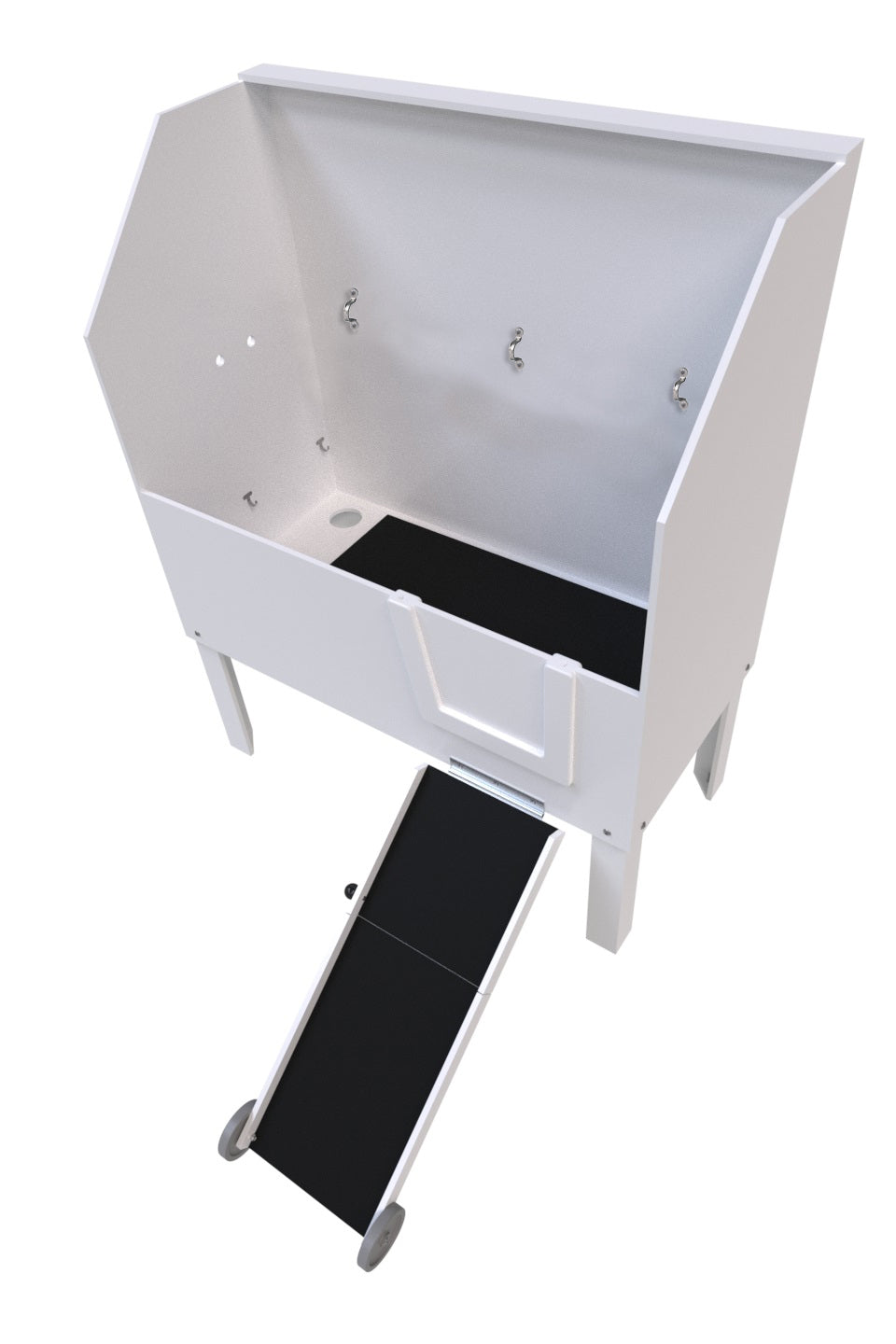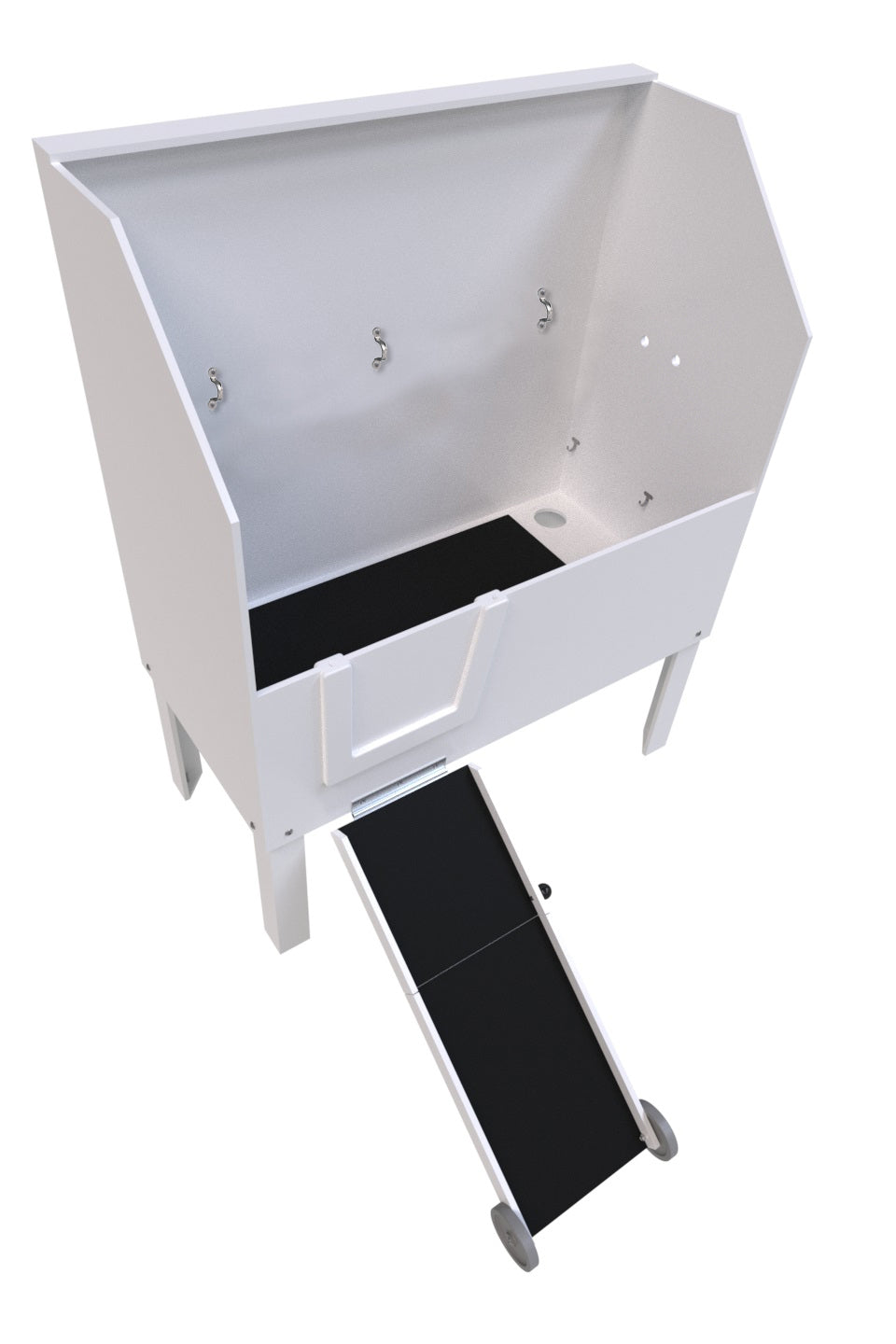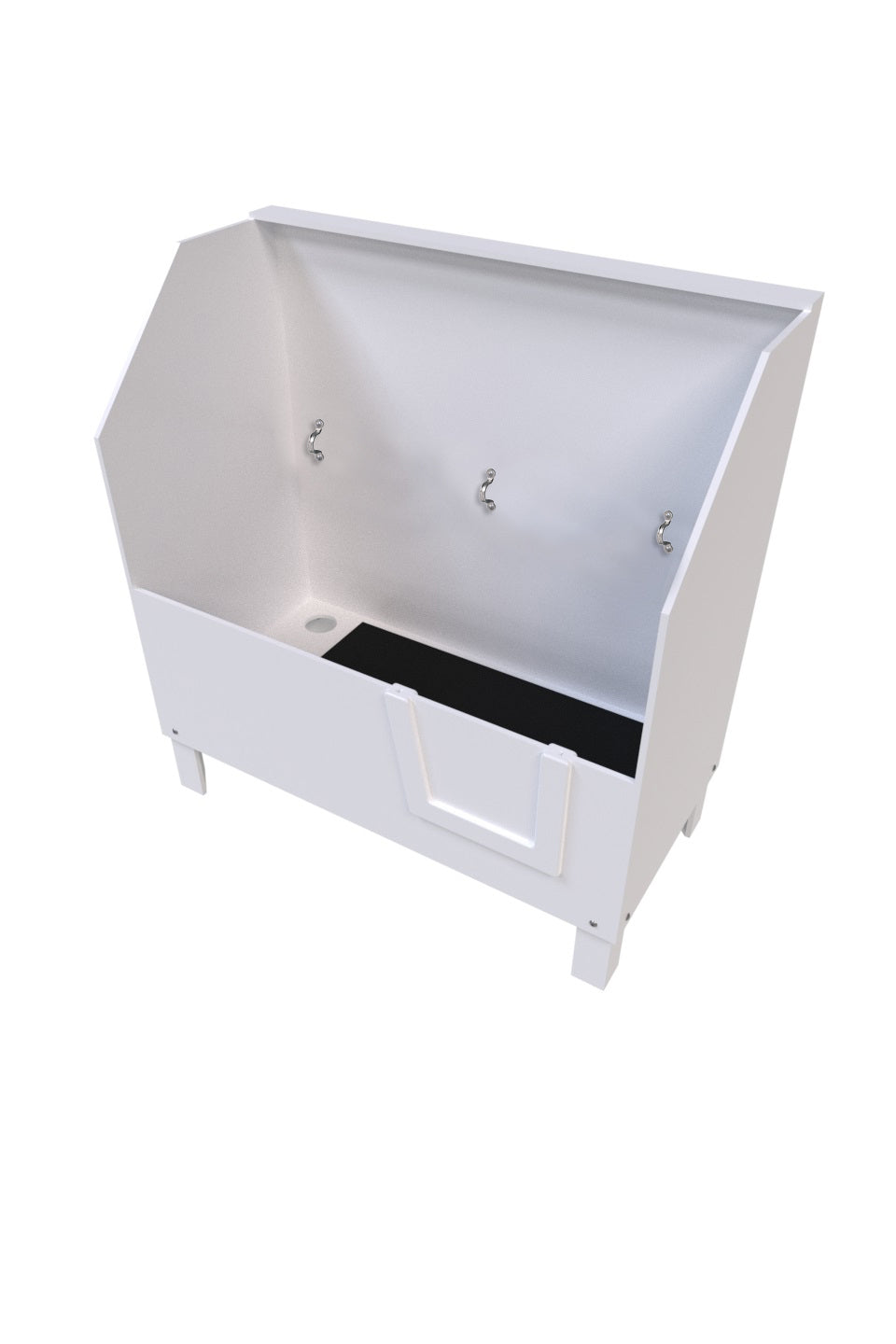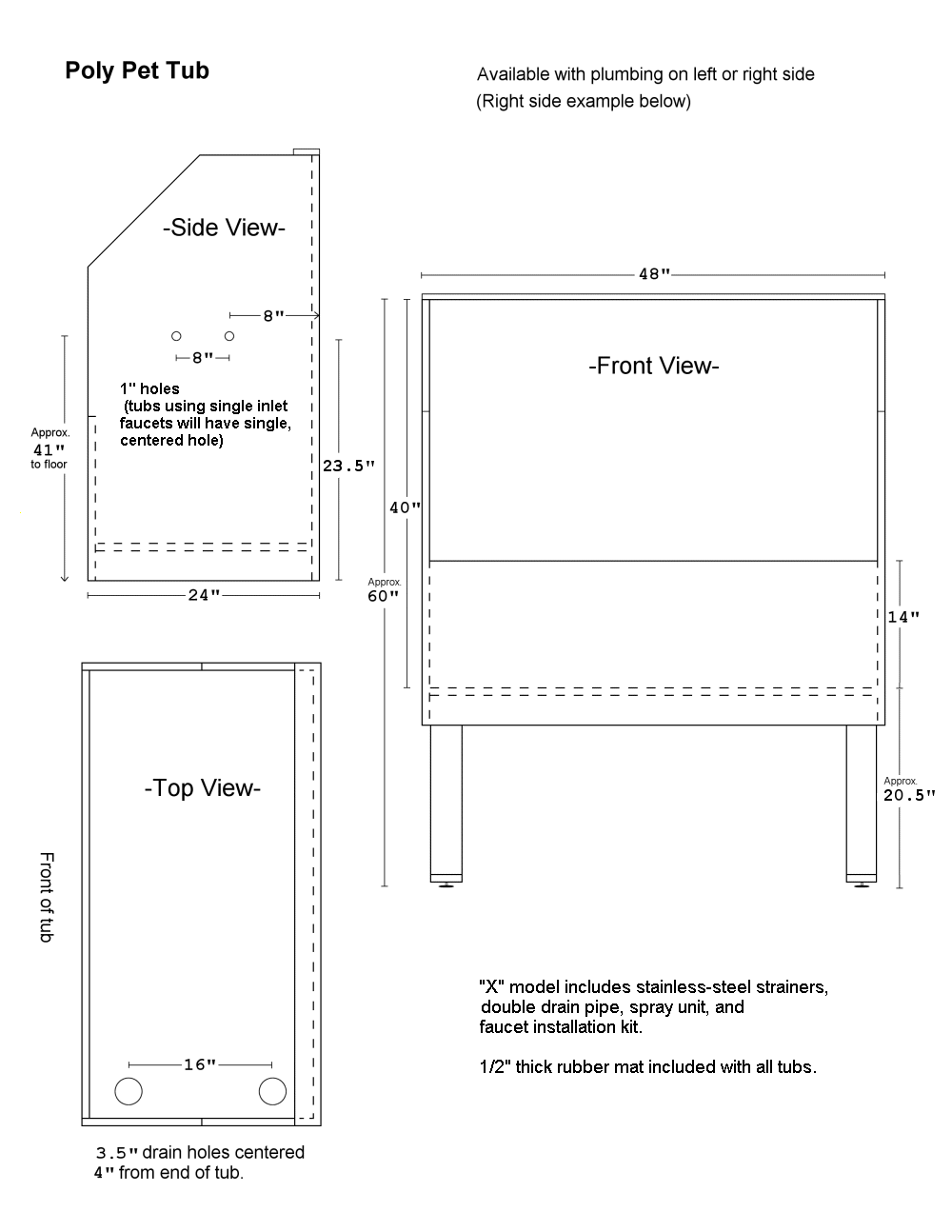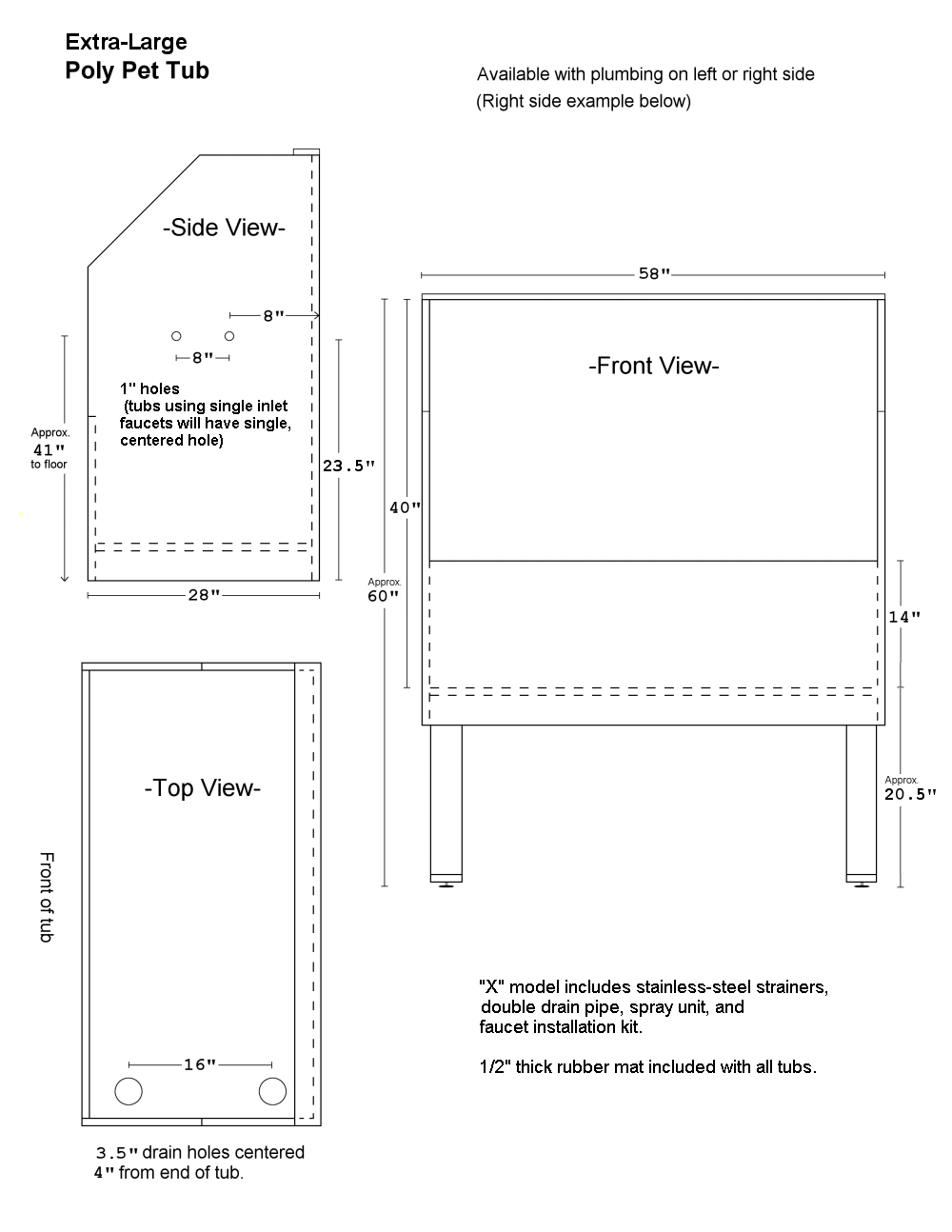 ---
Poly Pet Tubs are constructed from a durable, high-density polyethylene that is a full 1/2" thick. It is possibly the strongest tub on the market! Similar material is used to make 10,000+ gallon fire truck tanks. They are professional quality tubs that offer an innovative, attractive, practical alternative to stainless steel or other materials. 
Product Details:
48" Long

24" Wide

40" Tall (back and side splash walls)

14" Front Splash Wall.

1/2" thick rubber floor mat and holders

Choice of left or right double drain holes

Faucet holes (

on drain side) 

are available in 8" centers, 4" centers, or no holes
2 sizes of adjustable bathing nooses
Add the Accessories package to your tub, which includes:
Top-of-the-line, T&S Brass

Spray Unit

(faucet, sprayer, hose, vacuum breaker, sprayer holder). 

Choose 1 of 2 spray units (price of package will depend on the type of spray unit):

Standard hot and cold water inlets

Faucet installation kit (Solid brass nipples, locknuts, washers, elbows)

Plumbing Kit:

2 stainless-steel drains with strainers

connecting drain pipe for both drains
Other Accessories to add with tub:
Available in PVC (white) or ABS (black)
Why Choose Poly Pet Tubs?
Constructed of durable, high-density polyethylene that is a full 1/2" thick, making it possibly the strongest tub on the market! Similar to material used to make 10,000+ gallon fire truck tanks.

Has excellent impact resistance and does not dent. In fact, during tests we gave corners firm blows with a 2x4, and dropped a tub from a height of over 14 feet, and there was no noticeable damage!

Doesn't have the sterile look of stainless steel, and there is no metal noise from objects such as sprayer heads, hoses, doors, dryer nozzles, etc. that can spook dogs and irritate people.

Will not, rust, corrode, or tarnish. Stain and odor resistant.

Excellent resistance to most chemicals, including chlorine bleach, ammonia, alcohol, and most acids.

Molecular makeup of material makes surfaces easier to rinse off and keep clean than stainless steel.

Resists scum/bacteria buildup, as practically nothing sticks well to it. Even marker, paint, glues, construction adhesives, caulking, and silicone come off after drying for 24 hours!

The material our tubs are entirely made of is an odorless, tasteless, and nontoxic polymer which is FDA, USDA, and NSF Approved, as well as RoHS Compliant.
How do Poly Pet Tubs compare to others?
Splash Walls: higher than other tubs', to better contain water and hair.
Mat: 1/2" thick, scuff and stain resistant rubber mat attaches to tub floor to prevent sliding, yet is easily lifted for cleaning. Provides secure, comfortable footing for dogs to stand on (exceeds ADA Standard for traction).
Mat also allows water and debris to run off so animal isn't standing in it. Eliminates need for expensive floor grate, and provides easier to clean, safer surface (e.g., no holes for claws to get caught in).
Space around mat contributes to good drainage and eliminates problem other tubs can have with hair being trapped between tub and grate.
Mat has low VOC emissions (less than the detection limit of 1%). 
Double Drains: provides better drainage than other tubs. Drain holes are also recessed so that drains fit flush with floor of tub.
Restraint Bars: Bulges allow secure attachment of included nooses to loops in 5 different points on each bar for better positioning of dogs (see video above). 
Bars can also be used to easily and comfortably keep large, passive aggressive or uncooperative dogs standing when needed--simply place arm under dog in front of hind legs, and grasp bar, preventing dog from sitting! 
Poly Pet Tubs are strong enough to securely hold a total weight of 650 lbs. It's even strong enough to survive a 14-foot drop without damage, and a pounding from a sled hammer.
Still not Impressed?
Watch a Poly Pet Tub being thrown off a 14-foot high deck. Don't try this at home!

Poly Pet COMPREHENSIVE 10-Year Warranty:
Poly Pet Tubs not only come with an industry best 10-Year Warranty, but also includes ONSITE repairs for 3 years, and NO shipping costs for 5 years! Read more about the details of the warranty here: Poly Pet Tubs Comprehensive 10 Year Warranty Details
---